REVIEWS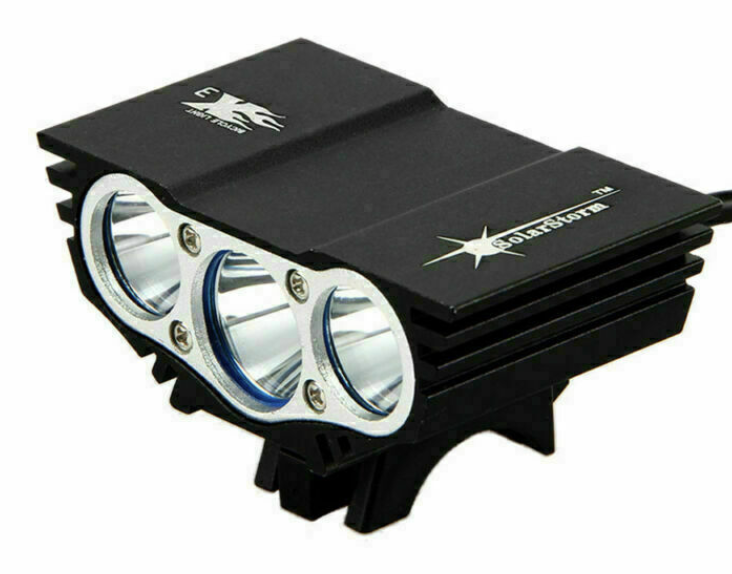 Solar Storm Bike Light
Solar Storm 3 lamp bicycle light is the light I use on my commuter bike and for mountain biking. It is a metal-cased multi-LED light with a rechargable battery.
Bought from?
I got the light from eBay. Cost £15.
How I used it
For mountain biking I used the O-ring to attach the light to the handlebars and used a different light for my helmet. This lamp is too bulky to be attached to the helmet.
It has three brightness settings. The lowest setting is enough for road riding at night. The highest setting is ideal for mountain biking at night.
Features
3x XM-L t6 LED Light max
20000lm
Dimensions: 42mm (length) * 74mm (width) * 38mm (height)
Weight: 300g (with battery group)
Attachments: O rings, battery pack, battery pack cloth cover, charger,
Aluminum alloy fin design to dissipate heat
Tempered glass lenses
8.4v 6400mAh Battery Pack included
Pros
Bright
Well made and durable
Cons
The battery indicator is not accurate.
The highest setting is actually a bit too bright for road riding as it dazzles drivers.
Cable casing from the back of the light has started to wear out (after about 2 years of use)
Conclusion
Great value for the price. Well constructed and high performance. Well worth it, although for more serious night riding and long term durability be prepared to spend a lot more.