REVIEWS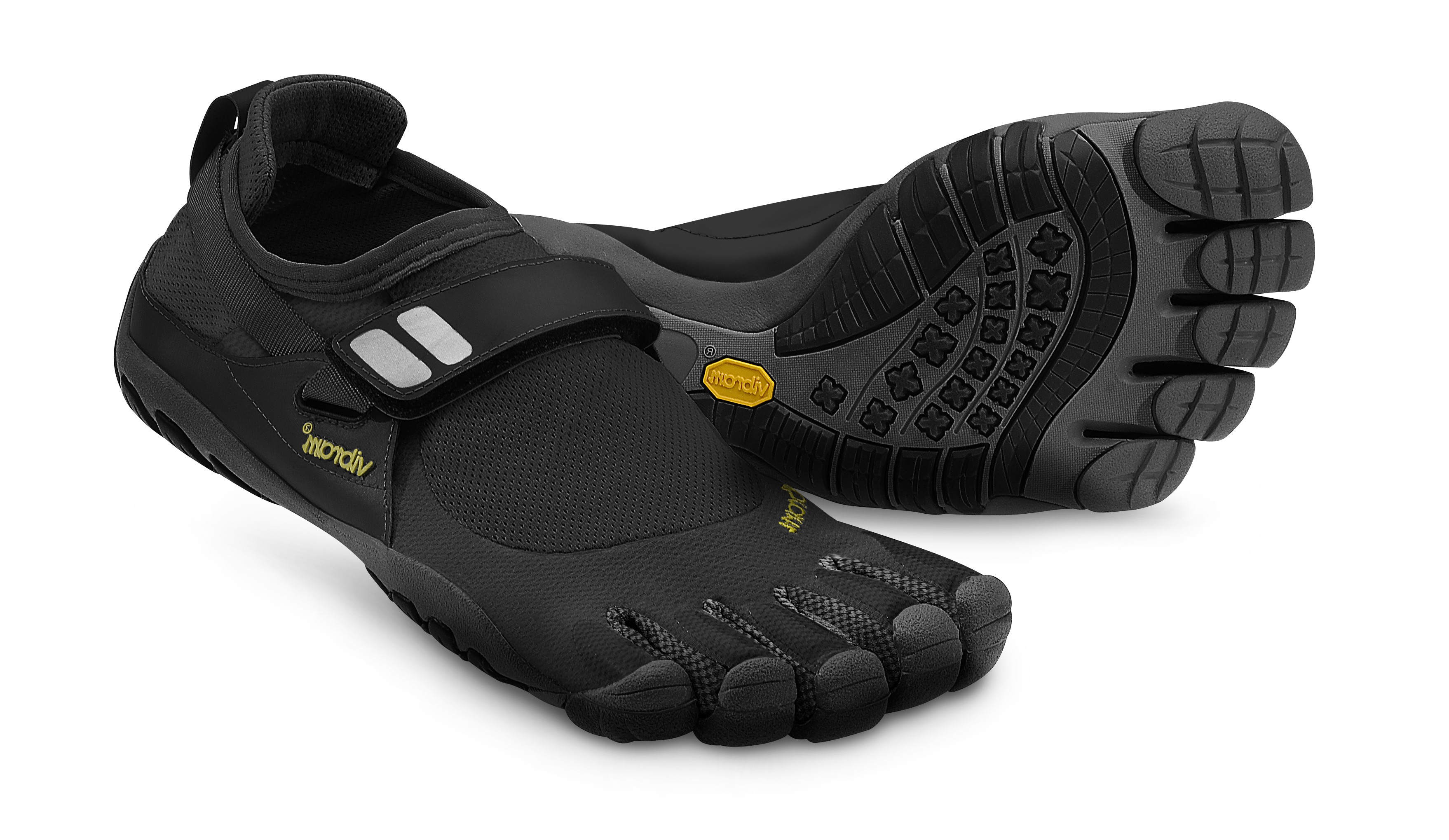 Running in Vibram Fivefinger Treksport - Long Term Review
My favourite piece of gear over the last couple of years has been my Fivefingers Treksport shoes from Vibram. I have been using them regularly mainly for walking and trail running. I was attracted to the shoe because when I went cycle touring, I took one pair of boots with me which were too narrow. This gradually crushed my little toe over a period of 2 years. Fivefingers looked like a good way to rehabilitate my toe. It is a no-brainer when you think about it. The foot has the most intricate bone structure of the body, with sensitivity as much as our finger tips and to be able to balance the shifting weight off our bodies. Feet are quite phenomenal feats (excuse the pun) of engineering.
Specs
Uppers: synthetic and coconut fiber
Outsole: Vibram rubber
Average Footwear Weight (Pair): 12.4 ounces
stretch-mesh panels
Individual toe slots
Instep straps secure with rip-and-stick closures and are attached to thin webbing straps that wrap around heels
Footwear height Ankle
Heel-to-toe drop (mm) 0
AEGIS Microbe Shield® antimicrobial
4mm EVA midsoles
Lightly cleated 4mm Vibram outsoles made of nonmarking Vibram TC1 performance rubber
Running shoe support: Neutral
Best Use: light trekking, trail and road running, cross training, CrossFit, walking and travel
Vibram
Vibram S.p.A. is an Italian company based in Albizzate that both manufactures and licenses the production of Vibram-branded rubber outsoles for footwear. The company is named after its founder, Vitale Bramani, who is credited with inventing the first rubber lug. In 1935, the deaths of six of Bramani's mountaineering friends in the Italian Alps was partly blamed on inadequate footwear. The tragedy drove Bramani to develop a new climbing sole. Vibram soles were first used on mountaineering boots, replacing leather soles fitted with hobnails or steel cleats, commonly used up until then. The sole was designed to provide excellent traction on the widest range of surfaces, have a high degree of abrasion resistance and was made using the latest vulcanized rubber of the time.
Vibram is well known for pioneering the barefoot running movement with the FiveFingers line of shoes that mimic the look and mechanics of being barefoot.
What makes vibrams special compared to traditional sneakers and also other minimalist shoes is that the toes are free to move naturally.
My take
They look odd, but they are well made and if you get the black ones then they don't look too out of place.
How I used the product
I have used Fivefingers since 2012. I took them on a trip to Barcelona and wore them for the duration of the trip. I never thought that running on concrete with them was a good idea so I've never used them for city running unless it is in the park. I used them for a hike in Spain with a large pack in order to test them to extremes and to connect more with the ground on the walk. I switched to normal hiking shoes after a couple of days, but I did walk about 24 hours in them none stop. I was walking on uneven, rough, rocky ground and my feet weren't read. I used them for running for 1 year on grass.
How they faired up
They have proved durable and I noticed that when I ran in them on grass, my posture, toes grip, angle and foot strength improve. I also practice martial arts so there was a natural performance cross-over. The sole has worn a bit but I have used them over the long term it is too be expected. I also owned a pare of New Balance Minimus trainers and even these wide-versioned barefoot trainers crunched my feet in and didn't offer the level of flexibility and feedback as the Fivefingers.
Features / benefits
Toes - improve balance
Vibram sole - good grip
Velcro strap - variable sizing for different foot height
Heigh angle area - feels stable
Pros
Do wonders for your posture as your feet are naturally positioned.
They allow you to feel more of the ground when you walk which brings a noticeable increase in awareness. It is a feeling that was a little alien for me at first, but then feels second nature.
Good for conditioning and balance.
Cons
They have recently received some bad press due the fact that people don't spend the time conditioning their feet for barefoot shoes.
Gorilla feet - You do get a lot of comments about your shoes which is unsurprising as they do share a lot in common with the feet from a Gorilla costume.
Not waterproof
Grit can get in through the material.
No good in mud.
Feature benefits
Uppers made of synthetic and coconut fiber - breathability and durable performance
Stretch-mesh panels - keep debris and grit out
Toe slots - dexterity, control and stability to deliver a natural walking motion
Instep straps - provide a secure, supportive fit
AEGIS Microbe Shield® antimicrobial treatment to help control odors
Grippy traction on a variety of surfaces
Advice
Be careful and feel your way. Don't overdo it then you should be fine but as with everything its down to the individual.
Conclusion
I've a big advocate of the shoes because they do represent an innovation that does offer a different kind of experience from regular running shoes. Even the top end running shoes can't be compared like for like because they are a different paradigm entirely. Fivefingers work off the use of your own natural cushioning provided by you foot arch.
If you haven't tried Fivefingers, give them a go and tell me how you get on. However, the model in this article, the Treksport is being discontinued and replaced by a new style called the Trek Ascent. The Trek Ascent has the same applications as the Treksport - an all rounder for outdoors adventures with a grippy and protective 'MEGAGRIP' sole, except they should be more durable and have thankfully added better water resistance from the leather and hemp upper fabric.
Another model I tried is the Spyridon comparable with the Treksport and Trek Ascent but with a different kind of grip. Let me know how you get on if you decide to get a pair.