TRAVEL-REPORTS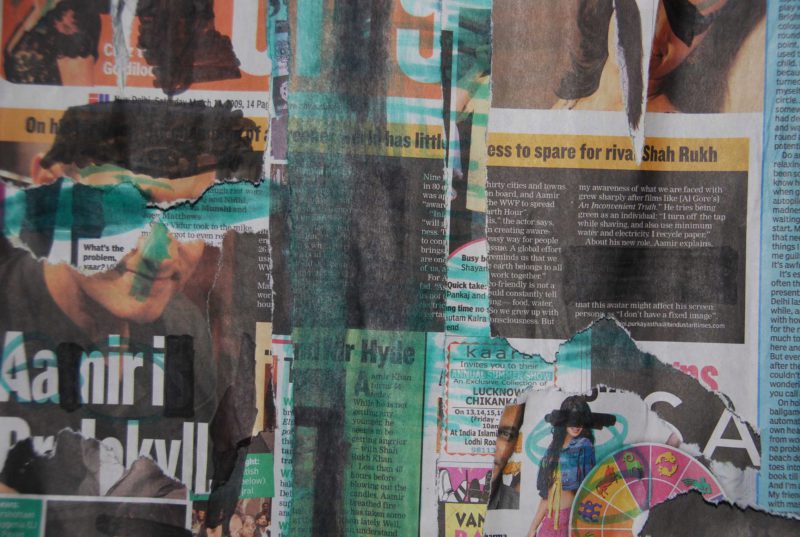 Staying with Couchsurfers whilst Waiting in Delhi for Border Bureaucracy
I am currently living with wonderful Couchsurfers, Navneet and Priya in Delhi and travelling each day back to the Iranian Embassy.
I have a half-baked plan to go back to Georgia overland. The border into Tibet from Nepal is closed. The other options are go back to Pakistan, then come back to India or wait until the border with China opens a couple of months later in May.
My no-fly policy was something that was an important part of the original Ride Earth project. Now I was faced with breaking this commitment.
I was having fun in Delhi, channeling myself into creative writing and even experimenting with creating some artwork from local newspaper cuttings.
I have a continued meditating on lateral thinking from reading the book by Edward De Bono which I found in a bookshop in Pakistan. I wrote about it in previous posts.
One of the techniques is that reversal is a kind of progress. This was making it easier for me to see how, what looked like retracing my steps in my journey, was actually a way of moving forward.
An amusing anecdote I found which researching this topic, perhaps in the sense of 'putting things in the wrong order', was the following, which was found on a page about the meaning of vice-versa.
A similar phrase 'arsy versy' has now become archaic.
Ye set the cart before the horse - cleane contrarily and arsy versy as they say. - Richard Taverner's Prouerbes or adagies with newe addicions, gathered out of the Chiliades of Erasmus, 1539