TRAVEL-REPORTS
DJing at Raves in Georgia and other Updates from Tbilisi
I got the bus back to Tbilisi. I arrived back and realised that I'd had such a good time and also realised a few things through my experience and change of scenery. Namely that I needed to get out of Tbilisi on a wild mountain bike adventure in the mountains (as you do), and also that I would return back to England again at Christmas to spend it with my family even though it would mean another arduous 6 days of public transport, intensive meditation and further draining of funds.
TODO: Georgia - October 2009 (9)
TODO: Georgia - October 2009
I decided that the future of my bike travel is most likely to lie back at the root of the original idea of Ride Earth. That ideas is a progression of long distance off-road mountain bike adventures, rather than on-road slogging epics. For me an on-road tour is a totally different experience to a true venture into the wild.
My views have also been partly influenced by two cyclists I hosted last week. One of which was Belgian, Koen Degroote who was not shy of taking his racing style touring bike off the tarmac (he is a big fan of the Belgian cobble-stone races).
Tom, myself and some of my Georgian friends are planning a ride, leaving next Monday. It will be an off-road route into the mountains with camping equipment. It was something that I'd been planning to do but that I realised I couldn't wait any longer for it to happen and now I'm really looking forward to it.
TODO: Georgia - October 2009 (4)
Last weekend I DJed (first time- ambition achieved!) at a party in some woods outside Tbilisi in a beautiful mountain setting.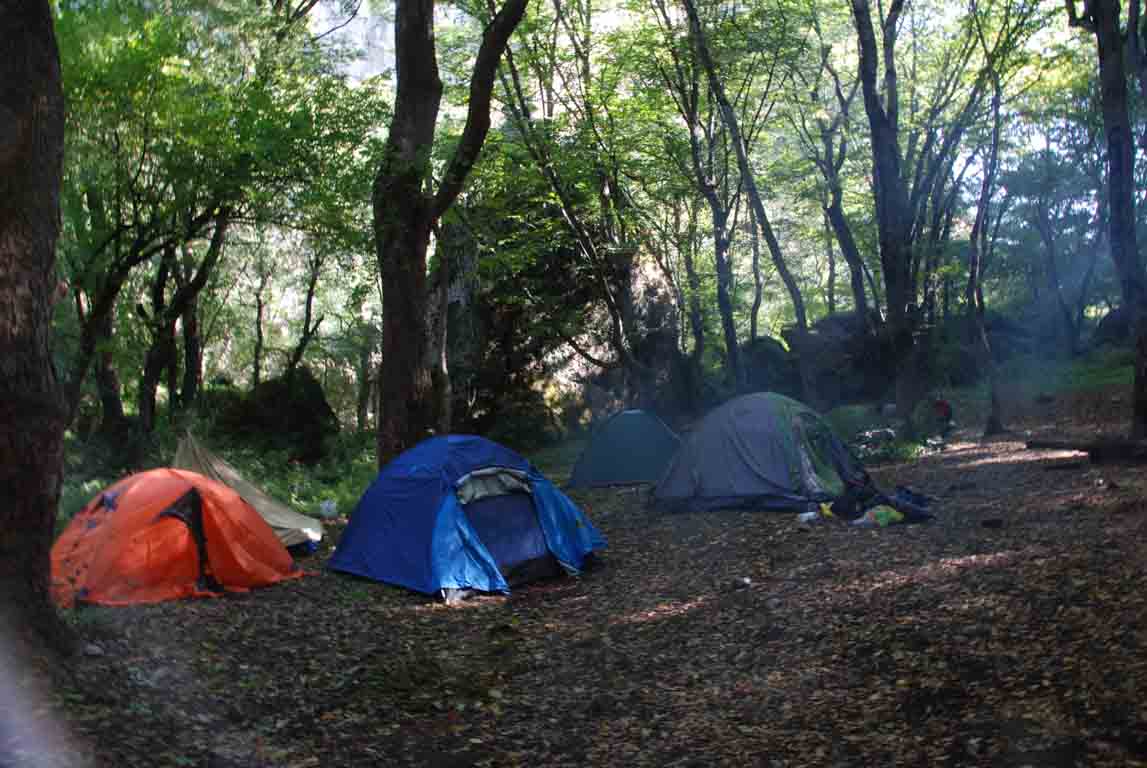 Some friends had found the location and hauled generators and speakers there in order to make the party. The following day we awoke to electronic beats still pounding, delightful weather and an incredibly beautiful landscape of mountains and forest which Fanny mentioned was akin to the Haute-Province Alpes near her home. David, my Georgian friend, again spoke of off-road mtb routes he knew that it was possible to take in that area and I was thrilled at being in such an incredible place with such potential for riding.
We are going to make a cross-country race on the 1st November in Tbilisi. There should be up to 30 participants riding the course marked out in Vake park, and above the Turtle lake. Email me if you're interested in participating.
I recently met an American guy working on a project to promote the OpenStreetMap website in Georgia and to get people to have 'mapping parties' to create open-source, free to use maps of Georgia. I have been looking into adding mountain bike routes and making them available through the Mountain Biking Georgia website.
TODO: Georgia - October 2009 (3)
TODO: Georgia - October 2009 (2)
I'm not finding a lot in the way of design work. I have odds and ends but nothing sustainable. However, I have been teaching web design which is a fantastic process of sharing and organising my process and knowledge. I am continuing to write the book of the travels from England to the Caucasus and so far I've written 156k words. I'm currently writing about the first trip to Armenia back in 08 when Tom and I parted ways and cycled through the country in the snow to Yerevan. The process which eventually ended up in Tom meeting Tenny, but that's all history!
I've taken up running again in the mornings, which I have realised how much I missed. I used to run a lot when I was living in the UK. I like the different kind of energy a run gives you. Compared to cycling, I work up more of a sweat in a shorter time and go through a more taxing mental process to keep the rhythm. I think that thought process of keeping going and holding a rhythm is one of the things I enjoy the most because it clears my mind for the rest of the day.
And so I'm taking each week as it comes. With the longer term projections for travel reasonably far away, I'm feeling happy to be fulfilling the task I set myself to keep busy and stimulated in whilst I'm here in Tbilisi. However, setting a limit to the time I will be here, has given me a boost to get moving and motivated as an open-ended 'another year' was starting to hang over me and seem like a long time, causing me to stagnate.
Since the round the world or bust idea petered out I've been thinking about places I would really like to visit and I intend to follow up with more research. The adventure continues, but it's become life, with real friends, community and activities in my current location. Something that it's difficult to have whilst travelling alone in a new location everyday.
Photos to come shortly
In the mean time check out <a href="http://www.georidersmtb.com">http://www.georidersmtb.com (mountain biking in Georgia website) and <a href="http://www.ajwelchdesign.com">http://www.ajwelchdesign.com Design Agency.