POSTS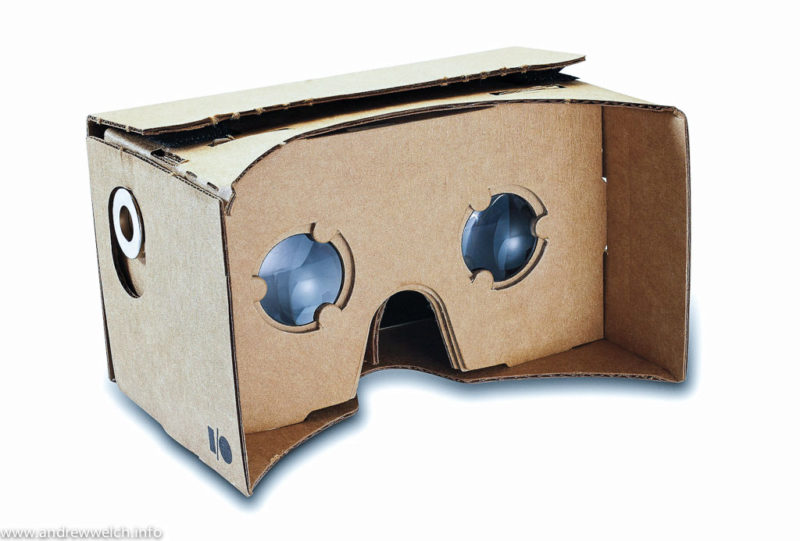 5 Uses for the Google Cardboard VR Headset
Google Cardboard is a virtual reality (VR) platform developed by Google for use with a head mount for a smartphone. Named for its fold-out cardboard viewer, the platform is intended as a low-cost system to encourage interest and development in VR. To use the platform, users run Cardboard-compatible applications on their phone, place the phone into the back of the viewer, and view content through the lenses.
Play Games
VR Games are steadily increasingly available in the app store. Combined with a bluetooth controller a low cost gaming experience can be had offering an introduction to the world of VR. If you like horror you might want to try Insidious VR
Read the paper
On November 8, 2015, The New York Times included a Google Cardboard viewer with all home newspaper deliveries. Readers can download the NYT VR app on their smartphone, which displays journalism-focused immersive VR environments.
Go on expeditions
Google announced Cardboard Expeditions to let teachers take classes on field trips. Expeditions allows a teacher acting as a "guide" to lead classroom-sized groups of "explorers" through collections of 360° and 3D images while pointing out interesting sights along the way. Teachers can choose from a library of 100+ virtual trips to places like Mars, the Great Barrier Reef and the Great Wall of China.
At the Bronx Latin School in New York City, teacher Katrina Roman says the topic of ancient history doesn't usually set students abuzz. But this week, they took a field trip to ancient Mayan ruins using Google Expeditions, a virtual reality teaching tool built with Google Cardboard. Normally, their assignment would involve poring over photocopied photographs, but instead, they stood at the top of Chichen Itza, then examined detailed carvings at Tenochtitlan. Amid "oohs" and "aahhs," the students shouted out details they noticed and shot hands up to answer Ms. Roman's questions. - Google Blog.
Watch 360 movies
You can watch 3D SBS movies, or 2D normal movies using apps such as VR Cinema, Cmoar, VR Cinema PRO, Google Cardboard Video Player.
Program your own apps
Undoubtedly a new generation of applications and uses of VR is on the horizon requiring developers who know how to program for this medium. Companies are starting to use the medium to promote their products in a novel way, including Volvo and Mattel. Check out the page for developers.
References