POSTS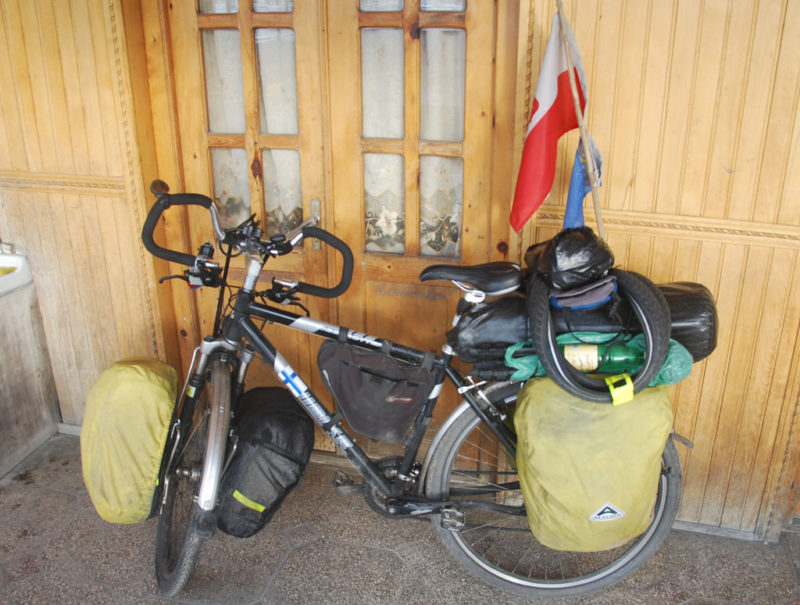 Lee Firman's Lightweight Touring Kit List
Lee Firman was the manager of the online footwear retailer "Feetus". He contributed this article detailing his kit list following a Camino de Santiago route in Spain covering 350km, on tarmac roads, over 2 1/2 days, staying in hotels overnight. Over to Lee:
I used an audax bike rather than a racer with mudguards, rack and SPD clipless pedals on it. These were good on the bike but also allowed me to walk when not on the bike.
As a start point, I had it equipped with what I normally take out on every ride. This is basically a saddlebag containing mini toolkit, mini first aid kit, spare tube, CO2 gun and a couple of spare cartridges. Also, the usual bidons, helmet, Garmin, mitts etc. etc. I took a single pannier. I bought the pannier especially with smallness in mind. Bear in mind I was able to do this because of the short duration of my trip.
The panniers contained:
Tools: couple of wrenches, a quality chain tool, a couple more spare tubes, a spare tyre and a high-pressure pump. The miniature stuff in my saddlebag is great for what it is, but I wouldn't use it if I had a choice.
Spare cycling kit: One pair bib shorts, one jersey. For emergency use only. Bear in mind this was summertime, so my clothing requirements were minimal. My first task as I got to the hotel each night was to wash my gear and try and find some way of getting it dry for the next morning. Good luck on this one if you're going to be camping! I reckon I must have had a long-sleeved jersey in there too, and a rain jacket.
Clothes: Something to wear in the evening. A pair of undies, a pair of socks, a t-shirt and the most lightweight trousers I could find. Oh, and a pair of espadrilles.
Odds and sods: including a USB charger to keep the phone and the Garmin happy. Relied on these for my mapping, and for storing my (pre-planned) route. Also, a lightweight D-lock for when I left the bike to visit a museum etc.
Obviously because I stayed in hotels, I was able to forget about toiletries etc., not to mention did not have to worry about any camping stuff, e.g., a tent. I think I might have taken a razor and some deodorant, but that would have been it.
Also, because the trip was so short, I got away with a single set of clothes. I wouldn't have been particularly comfortable with that (probably neither would the people at the next table!) had I gone for any longer.
Editors list of items: Tools, Cone, Small, Allen, Chain, Puncture, Lock, Multitool, Pump, Hiking trousers (zip off), Breathable long sleeved t‐shirt, 3 pants / socks, Gloves , Fleece, Buff, Waterproof jacket, Water, Cooking, Fork, Camelback, Noodles / pasta , Sauce, Dried, Bike, Bike, Sleeping, Tent, Headtorch, Roll mat.