TRAVELS
Two Months in Tbilisi, Georgia off the Bike
I spent April, May and June in Tbilisi but I'm now in UK to visit my family.
I've been writing up my journal into a book each morning. I am currently on 95000. I met one of my sister's friends a couple of days ago who has just finished writing a book she wrote during university. She wrote a total of 150000 words.
I was very inspired by her ability to be that organised and find somewhere peaceful to write during university! The book is a novel called 'We All Fall Down' and she is sending it to publishers now.
My time since I stopped cycle touring has been split up between organising work, research and mountain biking. There were demonstrations against the president, Saakashvili, in Tbilisi. They are because of the state of the economy and the war with Russia that Saakashvili lead the Georgians into last year.
Improbably, a famous Georgian singer came up with an idea where people would live in steel framed, canvas-covered, "cells" with numbers on them. Over the course of a week they appeared up all over the city. People lived in them for over two months. They were mostly around the parliament building on Rustaveli Street and in the area of Saburtalo.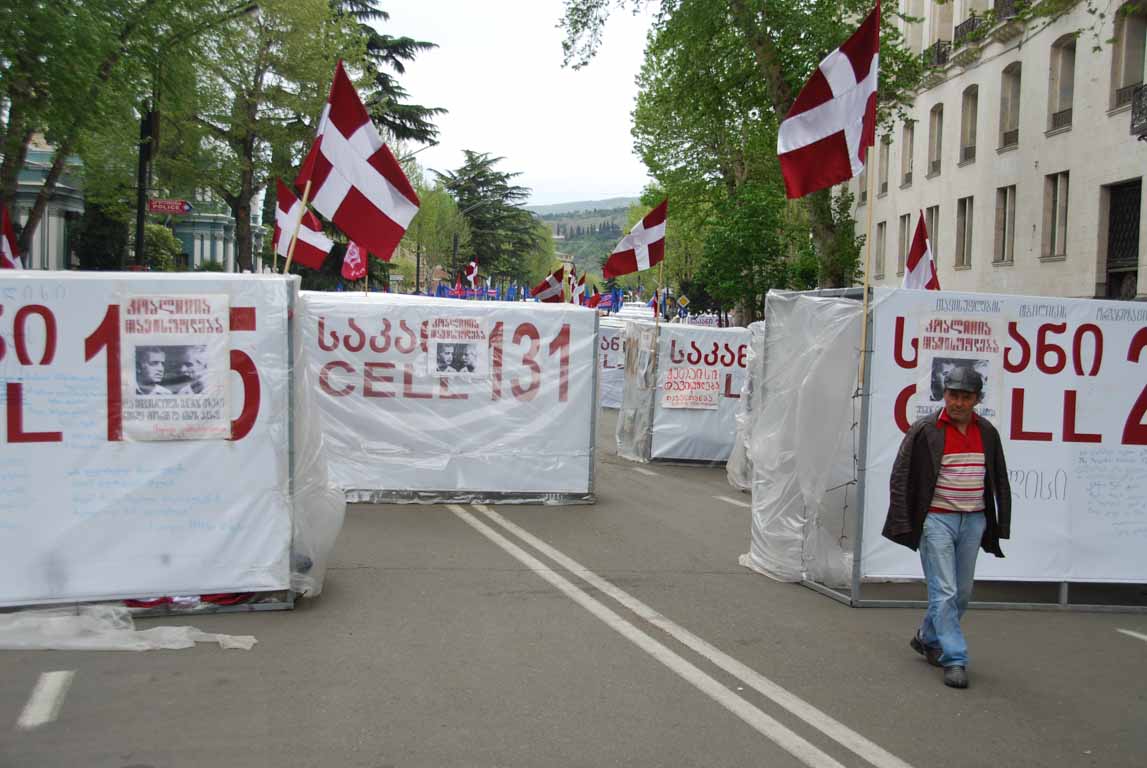 They blocked the streets and so the main streets in the city centre were completely car free. I thought this was great. It was much calmer and less polluted without cars. You didn't have to worry about dying when crossing the 3 lane main road or the crazy carousel that is freedom square at rush hour.
Instead the population was presented with an Idyllic city centre area of people strolling around, eating ice cream and chatting. The occupants of the cells sat playing cards. There was one heartwarming moment I witness when a dad teaching his son to ride a bike.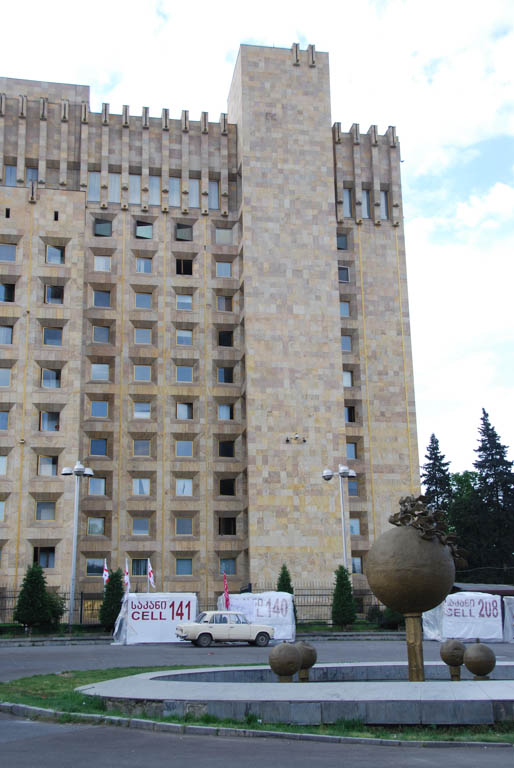 However, unfortunately I don't think that pedestrianisation will continue after the protests. I hope otherwise. I spoke to many people who thought it was an improvement. I mentioned it at a presentation I gave at last week - more about that later.
Saakashvili has cleverly dealt with the demonstrators, doing nothing for 2 months (reportedly he was seen on a yacht on the black sea). After a few days of sabre rattling between the parties, a meeting was arranged between the president and the opposition.
Gradually things calmed down with only a couple of hiccups with police clashing protestors on a minor scale. Quietly Saakashvili's cronies have been removing the cells around the city as people got bored and complacent with the whole thing. Now it is down to a few cells outside the parliament. There was a stage set up outside the parliament for people to speak out and it was still there when I left two weeks ago. There were still speeches going on. The saga continues.