YEAR-RETROS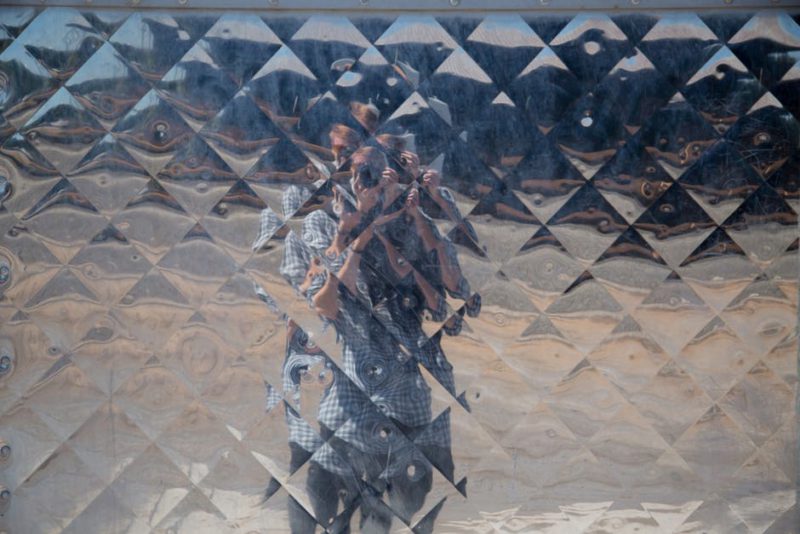 Year in Review 2014
2014 has been an interesting year. After leaving a very good full time job at MTV in Camden, London after 2 years, I left my overpriced warehouse accommodation in Manor house and travelled to Spain to Cortijada Los Gazquez, a stunning house in the Andalusian countryside.
Into the Earth
I walked for 8 days following the 'dry fluvial system' to the sea. Calling the project Bajada, I wanted to get close to the land as a channelled meditation; the physical channel representing an internal focus of attention.
It was intense, in the heat, carrying the pack, sticking to the watercourse, wading and hacking, over bone dry lakes, exploring derelict farmhouses and underground water flows.
I returned to Los Gazquez, assembled my photos and gave a talk at the Encuentro International event- a gathering of artists, scientists, ecologists around the shared interest of the environment and deeper values of community.
I stayed for a further month doing a spot of landscaping.
Collective Culture
A friend invited me to stay in Valencia for two weeks. There, I attended a contemporary arts festival, dérived around the city, participated in an exhibition of photography and enjoyed an a Indie computer games event.
Taking to the Trails
Georgia beckoned as planned. My first return in 2 years. On my arrival a day ride mountain bike tour was booked with an Irish guy, Tom, on the trails local to Tbilisi, followed by a week long tour with two lovely Australian cyclists, Louey and Sarah.
Time to Be Creative
Over the next few weeks James, Dato and I had meetings about the business.  I picked up a job as an English teacher in a summer school. I helped the students to learn English and allowed me to teach the subject matter -  globalisation, technology, sustainable living, literature, sport.
I spent plenty of time watching the World Cup, hiking in the mountains, swam in mountain lakes and visited Batumi where I went to a Bootsy Collins concert.
I played ultimate frisbee, met up with the guys from Jumpstart, helped out with an artisanal alcohol making process in a village, went to an Edgeryders event, camped at Tbilisi sea.
I met a guy who had walked from Krygyzystan with a horse. I participated in a downhill mountain bike race.
I went on a soviet era ferris wheel, picked and ate fresh fruits.
I helped a friend clear out his basement, got sick and got too new scar on my elbows from going on the handlebars of my friends bike.
In hindsight I could have fitted in another job / project. It wasn't easy to strike a balance between earning money for day to day living and being able to work on a business so I did give myself more time and space than I needed. My business partners both juggled other jobs and projects so our meetings had to fit in around that.
Tbilisi Dynamism
Georgia attracts people who want to build projects of their own and have the freedom of a country which welcomes foreign interests and is agreeable to live. However, it has an epidemic of NGOs and other 'aid' organisations. I had meetings with a few organisations and what struck me is that in many cases their existence is nothing to do with demand but with plentiful external funding often from foreign banks. It is a complicated set up and could do with more of a unified strategy and more grassroots Georgian-led activities.
I was offered land rent free to start a permaculture project because I had been talking about the opportunities for agriculture in Georgia. I wrote a full scale plan for such a project, and had some conversations about it, but I'm looking for interested parties to take it further.
Walk, Don't Walk
Tbilisi is a polluted city and the traffic is loud and dangerous. Public transport is ageing and desperately needs improvement. I did a fair bit of walking in the summer heat which wasn't always fun. Temperatures can get up to 45 degrees and it can be humid so sensible people escape to the mountains.
Couchsurfing
I hadn't planned any accommodation before arriving in Tbilisi. I was offered a place for the first week staying with a friend, then another who had a spare room. Other friends gave me the keys to their house whilst they escaped to the mountains in the midsummer. Catching up with old friends was priceless. However, my strategy as a guest is to be  organised, clean and tidy and to fit in with the host which overall is probably a beneficial experience but arguably there is a restriction in freedom. Next time I'm planning to rent a place so I can host more meetings and other travellers.
I spent some time in Armenia, visiting lake Sevan.
The Most Incredible Mountains
Our Tusheti tour in September went well and set us up well for 2015 season. There is absolutely no replacement for getting experience by doing something in order to improve it, find out if you idea meets up to reality and judging 3rd party enjoyment of a product you've put together.
Returning to the UK early due to a family bereavement, I soon started looking for jobs locally whilst living at home. Initially I looked in London, using online sites and Linkedin.
Back to the Dirt
I switched my strategy to using agencies and started to get a lot more enquiries. I picked up a job as a landscape gardener for two weeks. Part of my strategy to get experience of different kinds of jobs. It was a good experience to do physical, simple work, locally and improve my craft skills.
Following that I was in lieu for a couple of weeks before I started working at Leicester College on their website. This role should run into the new year. Whilst commuting to Leicester I've used my morning walks to do urban photography with Instagram (www.instagram.com/weaveoftheride).
Since being back in the UK, I've taken the time when not working to:
Upgrade my road bike from single speed to 8 speed (having moved out of the city)
Clear clutter by selling things on eBay, giving them to charity, or recycling them
Get into a routine of exercise and meditation everyday
Experiment with a routine of daily social media posting
Do deep cleaning and meditation instead of procrastination
Walk across fields
See old friends
Spend time with my family
Work hard
2015
I'm 32 years old. This year I will be 33. 2015 will be similar to 2014 in the sense of continuing ongoing projects in Georgia and the Caucasus, experimentation with different jobs roles. There may also be involvement in a project in Sweden and possible travel plans further afield.
Please following my existing projects at:
www.designmethodsandprocesses.co.uk
on Twitter: