REVIEWS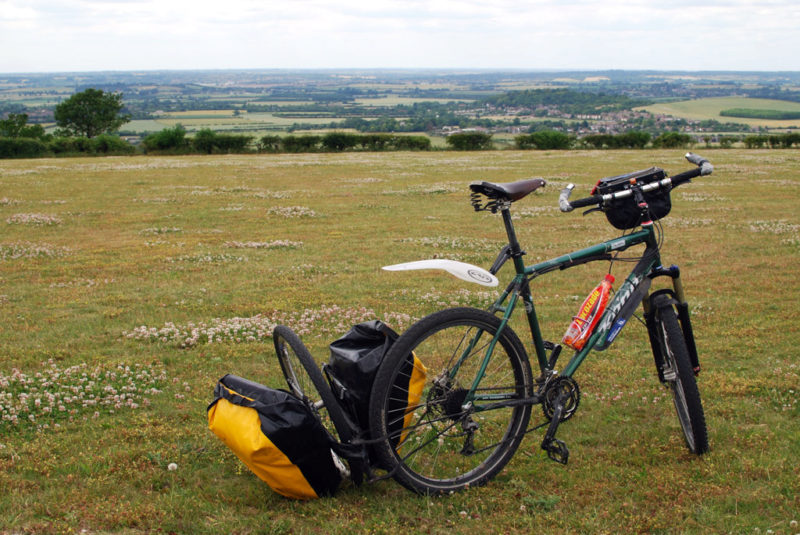 Kona Caldera Frame Review (2008 version) Can Aluminum Stand Up To Adventure Cycling
The Kona Caldera (2008) is a strong cross country frame with good handling. I hadn't heard of the Kona Caldera before I picked this frame up. It was suggested as a replacement for my Kona Explosif frame which cracked after riding 10000kms. I wasn't that happy about taking an aluminium frame on my trip to Mongolia but at the same time I had no reason to suspect that it wouldn't be strong enough for a 1000kms… trip off road across the Steppe. Personally I felt like the only reason that steel is more popular for adventure touring is the contingency that if you in the in the middle of nowhere and your frame breaks you can get it welded up easily.
However, to be honest these days when are you likely to be not coming into contact with civilisation for that long and when is that civilisation not going to have a welder? If you are planning on pedalling around only in wilderness for days you still need to get food. Cars are everywhere and where there are cars there are mechanics. I think the emphasis on steel for touring should be more on the ride it delivers and not just on the fact you can get it welded easier than aluminium.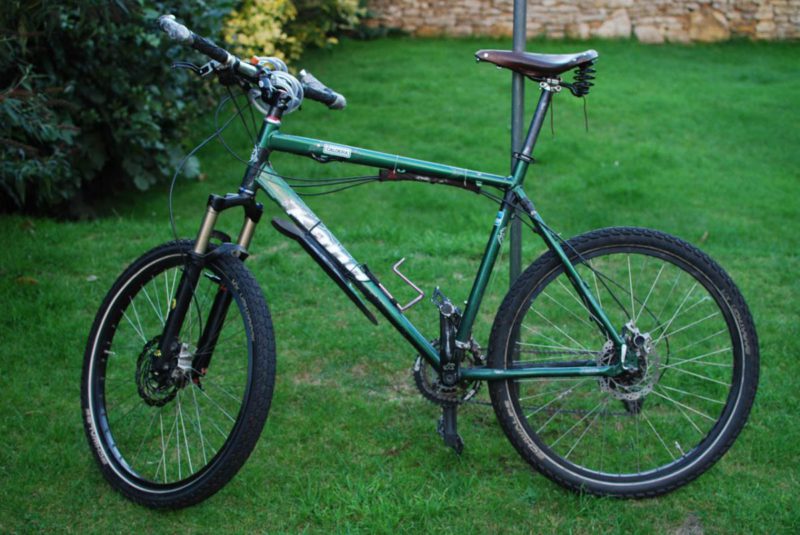 Features
Frame Material:Butted Aluminium
Seat Angle:71
Weight (kg):13.6
Bottom Bracket Height (in):12.5
Chainstays (in):16.75
Seat Tube (in):18
Top Tube (in):23
Wheelbase (in):42.5
Available Sizes:14 Inches 16 Inches 17 Inches 18 Inches 19 Inches 20 Inches 22 Inches
Replaceable gear hanger
The Company
Kona was originally a collaboration between Dan Gerhard, Jacob Heilbron and Joe Murray out of Vancouver Canada in 1988. They started distributing their bikes in Europe and having plenty of success in the race scene. The Kona Grassroots racing program was introduced in 1988. They hold the record for the long bike name • Humuhumu-Nukunuku-Apu'A. Kona are well known for doing a lot of advocacy work over the year including the Buck-A-Bike program raising money for organisations such as IMBA and the Africabike program. Kona Europe was founded with headquarters in the Black Forest region of Germany by Jimbo Holmstrom in 1995.
Kona have a strong background in DH and the immensely popular freeride mountain biking style in more recent times with the Kona Clump Freeride team. Dave Watson made history in July by jumping over the Alpe d'Huez stage in 2003 in the 100th Tour de France on a Kona Stab. In terms of touring bikes the Kona Sutra is a recent addition to the line but they are not new to road-style bikes with Jake the Snake cyclocross bike, and earlier Kona Hahanna and Fire Mountain models. Boiled down the company has a high ethical rating and tradition of building good bikes along with a sense of humour.
Kona say about the Caldera:
The Caldera is our top of the line Backcountry Hardtail that comes with upgrades such as hydraulic disc brakes, clipless pedals, and a RockShox Tora (100mm) fork. Think of it as the penthouse suite of the lineup… whatever that means.
Another Expert Review:
Sling a leg over it and it becomes one of those bikes you almost forget is there. Weight distribution between the front and rear wheels is spot-on… those slender tube profiles begin to make sense, delivering a taut suppleness… Nearly 20 years later the Caldera's silhouette bears an uncanny resemblance to those early Konas, despite the fact that the whole world and its dog have since jumped on the bandwagon…. Despite its [Ed: inaccurate] 'back country' billing and the 'all-mountain' label on its seat tube, the Caldera isn't overtly burly…extra welded strengthening gusset at the head tube joint - Bike Radar
My take on the frame
Amongst the frame's notable features are the quality of the welds, the box-section gussets on the top and down tube and the wide tyre clearance. The frame alone is a fairly standard aluminium XC bike frame but is is well made and well designed.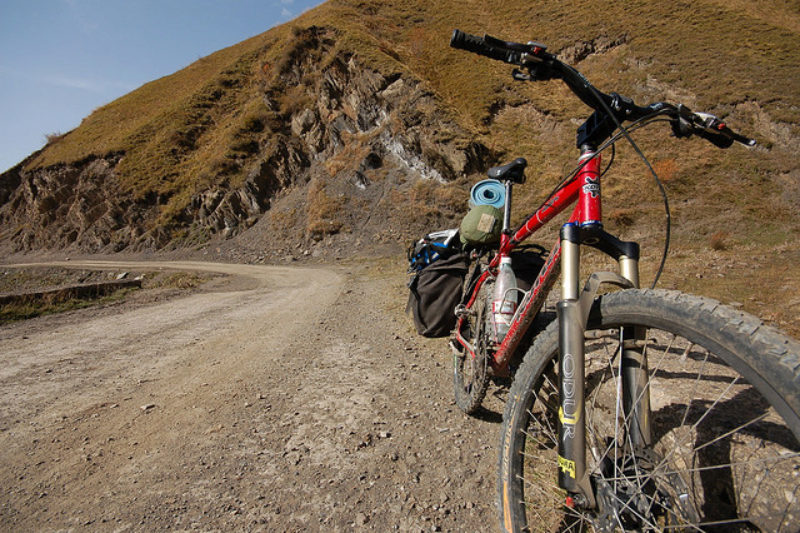 The wheelbase is also quite long and that gives a nicely planted ride.
The sloping top tube gives an confidence inspiring, attacking feel to the ride whilst also giving decent standover height.
Alumnium gives a lightweight strong frame.
Good value for money so you can save money for better parts.
Now easy to pick up a cheap one second hand.
Replaceable dropout: if it does get bent then you can replace it and you won't damage the frame.
How I Used the Frame?
I used the frame for various mountain biking trips in the Caucasus mountains and a trip across Mongolia in 2010, then mountain biking in the UK for 3 years.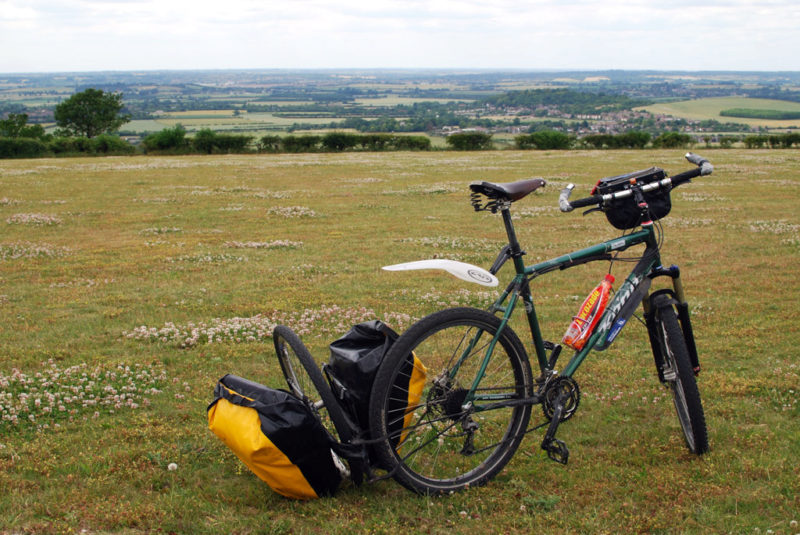 How I got on with the frame:
I had the frame in the 20 inch size which came up a bit small (I'm 6'2") but I then swapped to the 22 inch which was a perfect fit. The top tube is quite long so it was suitably stretched out for long periods of pedalling. The feel of the aluminium is noticeable in the ride with that 'zing' to it as opposed to the more forgiving, grounded steel feeling. I found it confidence inspiring on boulder strewn tracks. It climbs well, and handles well on the downhills.
I transported the Caldera bike on public transport in Mongolia. The bike was not ideally packed and vibrations caused some dents to wear out of the aluminium which I don't think would have happened to the steel frame. It didn't cause structural damage but enough to learn a lesson about packing bikes properly!
Conclusion
To conclude the Caldera is a great frame for all round cross country mountain bike use. A good option for bike packing and tours where you aren't worried about cracking the frame and welding it.
Technical Spec 3/5
Value for money 4/5
Performance 3/5
Links