POSTS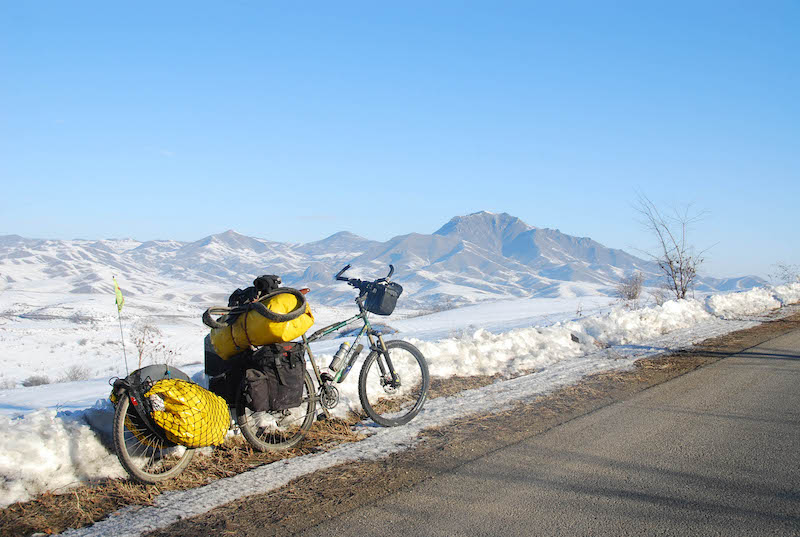 From the Archive: Cycle Touring and Expedition Notes
Before going cycle touring I did some preparation right from the reasons behind why I was going, through to the equipment I would need.
Why do I want to do a big adventure?
Endurance
Enlightenment
Promote alternative existence
Cycling
Extreme
Wilderness
Charity
Creatity
People
Philosophy, perception of space, time
Mindset
Be truthful about aims.
Show respect to locals, schools, customs, authorities.
Clear aims, end outcomes
Minimise environmental impact.
Fundraising
How am I going to raise funds?
Rejection is great. Learn from mistakes. Say thank you.
Plan and budget lots of small targets.
Team
Who is going to be in the expedition team?
Risk assessment
Health
Extremes heat acclimatisation
Altitude diamox
Disease
Vaccinations
STD
Bilharzial
Malaria
Tick Borne Encephalitus
Bugs permethrin, don't sleep on the ground
Deet
Diahoerra sip fluids, control vomiting Stemetil, imodium, phosphate, diaralyte, tinidazole
Altitude sickness
Communication
How are we going to communicate with others with a language barrier?
Magic letter
Globe with route
Gifts

Stamps
Thankyou letters
Emails
Contact book

Permission - British council, Embassy, High Commission.
Locations
Where are we going to go?
Asia
South East Asia
Singapore -> Flores
Bangkok -> Hanoi -> Laos -> China
Bangkok -> Cambodia -> Saigon
Laos -> Phnom Penh -> Mekong
Routes
Lombok -> Mataram -> Sengiggi
South Banyunangi -> Bali
Singapore -> Jakarta -> Java -> Surabaya -> Mount Bromo (volcanoes, mountains, rainforests)
Pulag Maduraa
Chennai to Bangkok
Places
West Kalimantan

East Malaysia

Sabah
Kuching
Sarawak
Brunei
Lake Toba

Sulawesi + Sumatra
Thailand
Chiang Khong / Huau
Xai border crossing
North
Chiang Mai
Ruins
Great food
Cheap accoms
Mountains Tak Mae Sot
South
Routes
Tak Bai
Surat -> Thani
Hua Hin
Beaches Gulf of Thailand
Penang -> Alok Setar -> Sadao -> Krabi -> Ranong
Bangkok -> Cambodia
Lhasa
Monasteries
Shigaste
Tashilhnpo
Kumbum
Everest
Rongbuk
Tibet
Taklamakan desert to mountains
Aksai Chin plateau
Mt Khailash, Lake Manasarovar, Mt Goria Mandhata
Trans-Himalaya -> Gangdise Mountain range
Tanggula Pass
Transation from high plateau to lowlands sub tropical Nepal
Ranu Valley
Namche Barwa regions
Riwoque pass area
Mongolia
Non existent roads. Nomad people that live in Gers. Carry spare water (sterilize water).
Gobi desert.
China
Heihe to Tengchong
Zhongguo
Climate / Seasons
Winter
Spring
Summer
May -> Aug
Autumn
Aug -> Nove
Late summer / autumn
dangerous floods , land slides
Shenzhen
Dongchong
Isolate beach, furthest tip of Shenzhen
Yanshuo
Most common way to get around is by bike
Guilin
Dongcheng, Donguan, Guangdong (province)
Filled with expats who have started their own businesses
Best place in Dongguan to stay / live
Has different parks and small mountains nearby to do day trips
Ghangzhou, Guandong
Largest province in Southern China
A lot of expats.
Has great transportation but more inland so not the cheapest to travel from.
Chengdu, Sichuan
West of China (Southwest)
A lot of mountains nearby to explore
Equipment
What will we need?
Repair
Duct tape
Cable ties
Piece of leather
Aluminium tube
Sleeping
Bag

Mat

Liner

Tent

Trailer

Bike

Clothing

Universal sink plug

Lock

Light

"Nelise" tourist map

Rohloff (maintenance free, change gears when stationary)

Buy good quality expensive clothing

Notebook computer (Skype, internet, website update, sort photos)

Bicycle cape (also serves as picnic cloth)

Headtorch (rechargeable, light weight)

Waxed matches

Tinder from pencil sharpener
Tips
Who can give us help and advice?
Astrid Domingo Molyneux
David Rothschild
(Adventure Ecology)
Captivate, articulate, educate, reactivate
Get out there, exploring as a tool, call to action
Bob Allison
Think small rather than big
Build on previous research
Stay enthusiastic / keen and be flexible
Anthony Brooks
Avoid bears with cubs
Keep up wind
Light a fire
Never leave food out
Black bear fights vigorously
If brown bear attacks play dead
John Adams
Don't open your mouth without the facts
Ben Mcnutt
Keep feet dry 8 out of 24 hours
Look up and down when setting up shelter for deadfall and patternation of leaves (flooding), animal runs (roost), too close to water, valley bottom (cold sink),
Leave itinerary with trustworthy person
Hallam Murray
Kevlar tyres
Ridgeback 604 mountain bike
Fit bicycle accessories of the highest quality (cassette, chain, rings, pannier racks)
Dawes super galaxy
Good bike is tough, rugged, low gear ratios, wide tyres with plenty of tread, low centre of gravity
Remember to take a chain tool, crank remover, cassette remover, spare tyre, inner tube, puncture repair kit, patches, glue, brake blocks, gear cables, spokes, light oil for chain, waterproof grease
Richard's bicycle book by Richard Ballantine
Karrimor Icelandic panniers
Top bag / rucksack good for on / off the bike
Cannondale front bag for map, camera, altimeter, compass, notebook, tape recorder, vango Zephyr tent, optimus stove (plus back up bottle)
Hat
Medical kit
Money belt
Avoid headwinds
Drink regularly
Carry sugar, salt, dried milk, tea, coffee, porridge oats, raisins, dried soups.
Use a toothbrush to clean chain
In an emergency: wire, string, dental floss, nuts, tin, gaffa tape
Fix a date to leave
Brutal budget
Train yourself in skills you are missing
Buy the best gear
Leave time to sort out visas
Research the weatehr
Keep passport with you at all times
Magic letter your intentions translated into local language
Do a trial run first if time allows
Serrendipity: don't fret over the unknown, you will learn to cope- by relaxed about it an keep a sense of humour.
Reading
Medical handbook for mountaineers - Peter Steele
Bicycle Expeditions by Paul Vickers