TRAVEL-REPORTS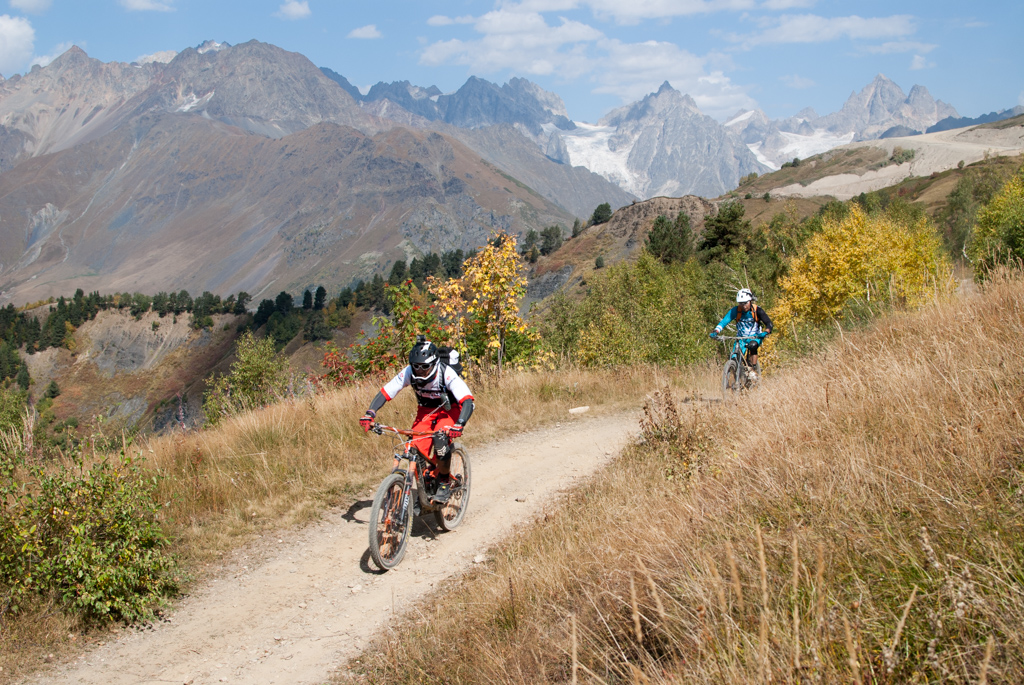 Transboundary Mountain Bike Trail in the Caucasus
I wrote this doc in 2014 and took it round to a bunch of NGOs in Tbilisi with the aim to getting some assistance to build it. Friend Tom Allen is currently travelling to the Caucasus to create a hiking trail so thought I would put it out there as part of the awareness raising about the benefit of these kinds of projects.
Note that mountain bike trails are generally different from hiking trails. At the least mountain bike trails should be of a rideable gradient (up and down). Of course you can take a mountain bike anywhere and there is now such a thing as bike packing which is mountain biking with frame luggage and not minding hike-a-biking sections but its even more niche.
The other end of the spectrum, custom built trails purely for mountain biking require:
Earth works equipment
Dedicate team of trail builders
Knowledge of trail features such as berms, obstacles, jumps
Knowledge of use of gradient to enhance the trail flow
Drainage
Armouring (hard pack surface) to avoid mud churning
Money
Prolonged periods of time and maintenance
Georgia has an ever growing community of mountain bikers and appetite for mountain biking and other extreme sports. It will not be long before there are many more serious trail creation projects all across the Caucasus resorts.
Transboundary Trail
Mountain biking tourism has become a large industry. With reduction in snow levels seen in the Alpes there is a real opportunity to get a head start and create something extraordinary in the Caucasus region.
We are excited about the Transboundary Trail project because it will offer the opportunity to not only provide a geopolitical connection between countries in a very positive way but also be a symbol of action to raise awareness and educate about the environment, geography and cultures in the area.
It will send a message to the rest of the world that the Caucasus countries have a very progressive programme in place for the outdoor tourism and mountain biking.
With the right expertise this project will not be difficult to implement but it will have a significant impact both in terms of publicity and long-term economic benefit through tourism.
It will provide a blueprint for future trails in the region. Currently there are projects to create bicycle trails in Georgia, but they are not well informed, managed or implemented and therefore the value created is in danger of not fulfilling its potential.
If we look at reports about trails in Wales, UK (£18m spend in 2009 contribution to the Wales economy 1) and Oregon, US ($400m 2) we can see how mountain biking trails and a well thought out design can also provide significant economic benefits through tourism.
Potential route
We can look to a trail such as the Great Divide Mountain Bike Route in the US3 as a long-distance mountain bike path which is successfully used year in year out and features an annual race which attracts many competitors and a great deal of publicity and business.
An in-depth study would need to be conducted to choose a route that includes many sites of interest and passes areas of significance and natural beauty and would strategically benefit from the inclusion into the trail.
It is important to be in contact with managers from the National Parks who can offer advice and manage the sections of the route, which will pass through their areas.
Without prior knowledge and research on the ground it is difficult to say exactly where the route will go and which places it will visit therefore we have some initial questions to answer to provide context.
Which areas are of importance to include on the route?

Which border crossings will be used?

What is the definition, context and history of a transboundary trail?

Who are the interested parties involved in the creation of such a transboundary trail?

How can it be ensured that said parties work together to create the best possible project, and that credit is given where credit is due, for involvement in the project?
Prototyping the route
My proposition would be to create a few different route possibilities, and to vote on the route, which will eventually be implemented. The route will require significant adjustment as context research is carried out.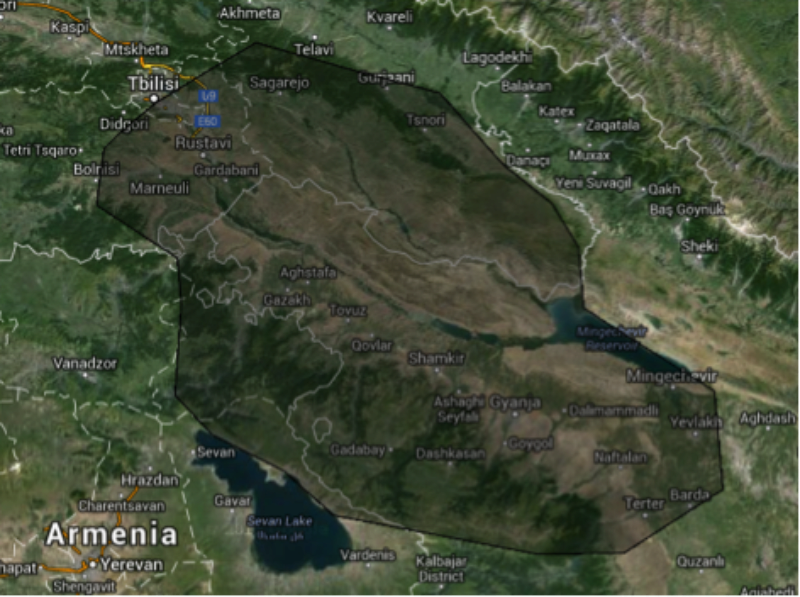 I also suggest the creation of a list of necessary sites to be included on the route, listing their reasons for inclusion weighted by priority, based on social, economic, environmental factors. This list can be created via consultation with all other stakeholders.
For example:
Areas of interest south of Tbilisi

Which Georgia-Armenia border crossing
Places and sites of interest in Armenia such as Dilijan, Sevan Lake

Armenia-Azerbaijan border crossing

Places and sites of interest in Azerbaijan such as Goygol, Mingechevir Reservoir

Azerbaijan-Georgia border crossing

Places and sites of interest in Eastern Georgia

Tbilisi National Park
Construction of the bike trail
The trail will combine existing singletrack trails, 4x4 tracks, fireroads and in the future potentially custom-made sections for technical mountain bikers.
All users
Surface needs to be safe and fit for use.

Surface is maintained to contain enough soil that it is not loose or eroded.

Trails require maintenance in order to keep them safe and usable particular in technical areas and areas with high level of use. In Tbilisi, mountain biking is very popular and the trails surrounding Tbilisi require maintenance to prevent them from becoming dangerous.
Technical Mountain bikers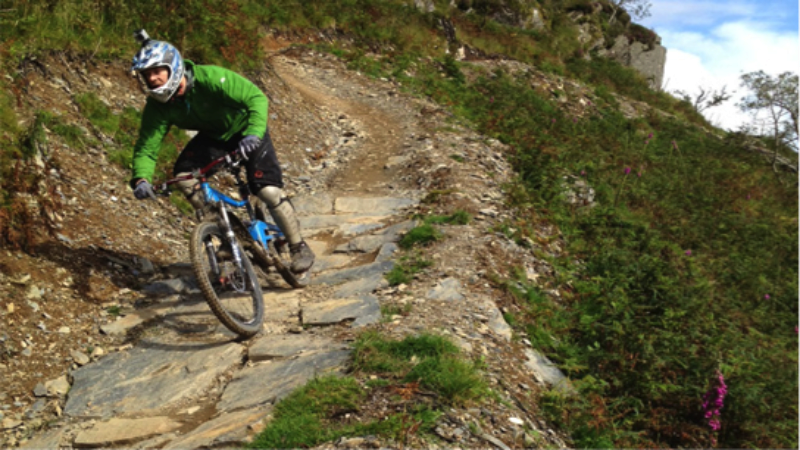 In order to attract technical mountain bikers some additional factors will have to be taken into account. Serious mountain bikers are willing to spend a lot of money on equipment and spend money on travelling great distances to go mountain biking.
However, they expect the trails to be built to European and US standards and there to be provision of services such as bike shops, restaurants and places to stay so that they can focus on the sport they enjoy.
Variety of terrain

Inclusion of Singletrack - Thin, can consist of rocks and tree roots.

Areas of the Trail, which will take greater amount of use, are reinforced with larger pieces of rock.

Features to make the trail more enjoyable.

High standard of maintenance.
Leisure cyclists
Leisure cyclists require safety, as the highest paramount because of the likelihood is that they won't be experienced cyclists. They won't want to cycle on technical terrain and prefer to look at nice scenery and visit sites of interest.
Wide path

Without loose rock or narrow tracks

Availability of bikes for rent

Easy riding
Involvement of Georiders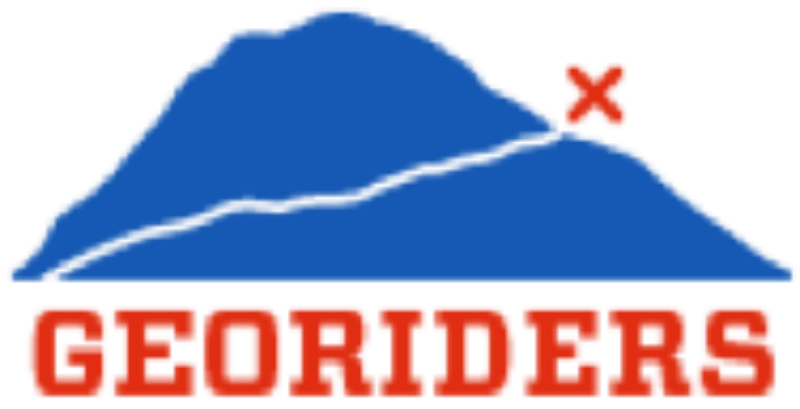 As the bespoke provider of mountain bike tours in Georgia with Georgian and British ownership and management, Georiders is in a good position to implement this project.
We have a high level of experience in Mountain biking and what constitutes a mountain bike trail that will attract tourists from many different countries.
Georiders are hired as consultants to:
Research the route.

Receive information from Stakeholders about sites and attractions.

Write a proposal and budget for the cost and the potential economic benefit

Project manage the implementation of the trail

Use Georiders' existing network of connections to promote the trail and bring it to the attention of international media

Extend the agile project management plan, which has been started below, to include the breakdown of epic level pieces of work into user stories and the breakdown of user stories into implementable tasks.
Agile plan
In my proposal for project managing the transboundary trail, I propose the use of agile project management techniques. This involves list of us in themes for the project, which are then broken down into large pieces of work called epics. Epics are broken down into user stories, and user stories are broken down into tasks, which are clearly actionable.
The advantage of using this technique means that the long-term high-level visions and goals of the project are connected with the on the ground tasks and that are necessary for the project to be physically implemented. This technique also allows the project Scope to include a level of prioritisation through the descoping of specced elements.
This process also includes a method, which can be used to establish the likely time and resources required for each piece of work, which can ensure that the project is completed in a timely, and resource efficient manner using Kanban methodology.
The core beliefs for the transboundary trail (themes)
Improve political relations between the Caucasus countries

Be a beacon for progressive tourism in the area

Attract many tourists

Be accessible for beginners and advanced cyclists alike

Providing educational foundation for interesting sites and environmental locations along the way
Epics
1.
Build a bicycle trail that connects the three main Caucasus countries

Create a dialogue between the different countries through the transboundary trail.

Demonstrate the social and economic value of a Transboundary Bike Trail.
2.
Create attractive branding.

Implement a marketing plan.

Make comparisons between similar successful projects in the US and Western Europe.

Conduct surveys with tourists

Make a video documentary to demonstrate the success of the trail.

Create informational resources to help stakeholders understand the impact and benefits of this project (economic, environmental, social).
3.
Run a marketing campaign to promote the trail.

Build a website for the trail.

Take promotional photos of the trail, landscape surrounding the trail and people using the trail.

Run promotional events involving stakeholders.

Advertise the trail in relevant media.

Get local and regional news to cover the trail.

Follow a comprehensive media plan targeting all scales and formats of news media.
4.
When building the Trail consider how some areas will be more accessible to beginners and advanced users.

Offer the ability to rent bicycles at different locations along the trail.

Offer informational resources on the website about the difficulty of each part of the trail.

Include safety information on the website.

Run promotional campaigns aimed at differentiated market segments- e.g. for families, for advanced mountain bikers, for leisure cyclists.

Run some events targeted at different market segments.
5.
Make contact with local experts around the flora and fauna, which can be found around the trail.

Make contact with local experts who know about the geology and geography of the trail.

Make contact with educational institutions to consult about the most useful content for the educational signage.

Create a book that details the landscapes that run along the trail.

Facilitate new projects that involve the transboundary trail for example with artists, travellers, botanists, geographers, environmentalists, and encourage them and incentivise them to create projects and mythology around the trail.

Build huts and centres along the way with cafes, restaurants and education centres.
Stakeholders
Tourists

Government

Park managers

Local people

Flora and fauna

Investors

Sponsors

Experts (geographers, environmentalists, mountain bike trail builders, scientists, ecologists)
User stories
"As a <role>, I want <goal/desire> so that <benefit>". It captures the 'who', 'what' and 'why' of a requirement in a simple, concise way, often limited in detail by what can be hand-written on a small paper notecard.
As an example of this process I will take one of the epics and break it down into user stories and tasks. This process would then be continued to create a comprehensive plan for the project.
Epic
Build a bicycle trail that connects the three main Caucasus countries
As a tourist I must be able to follow signs for the trail so that I can navigate the route
Tasks for this user story:
Design signage

Decide what information to put on the signs

Create a GPS track
As a tourist, I must be safe when I use the trail so that I can avoid having an accident
Do a risk assessment of the trail

Provide safety information for users of the trail through a page on the website / information pack
As the government must be able to be aware of the political benefits of the trail so I can warrant investing and promoting the trail
Put together an information pack for the government and send it to them
As a park manager I must be aware of the details of Trail project so that I can successfully manage and get maximum value from the trail running through my area
Contact part managers and inform them of the project and how it affects them

Put together an information pack about how they can get value from the Trail
As a local resident I must be aware of how the trail effects me so I do not feel any negative externalities from the trail
Make local residents aware of the trail and forward them on to relevant information on the website

Create a frequently asked questions section, to counter any objections the trail and provide information about how local residents can get value from the trail.
Conclusion
The construction of a transboundary trail is a very exciting project with a multitude of potential benefits. It is an extremely cost efficient way to bring many new tourists into these areas, and can easily be extended to have an educational and environmental value.
Georiders has the necessary project management expertise, and expertise in mountain biking and business to be to create something extraordinary that will really put the area on the map as a destination for mountain biking and cycling tourism.