POSTS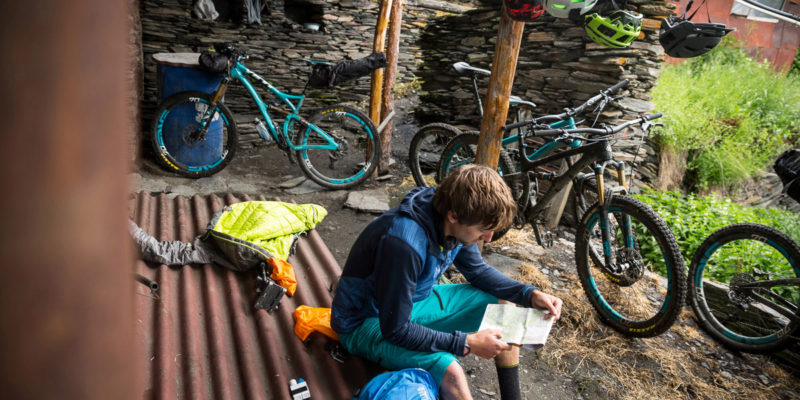 Joey Schusler bikepacking filmmaker - The Trail to Kazbegi
Joey Schusler is an adventure athlete specializing in mountain biking & skiing. He couples his athletic skills with his creative drive as a photographer and filmmaker. Based in Boulder, Colorado. He says:
The mountain bike is the perfect tool for adventure.
Having been a competitive downhill racer for years, his attitudes changed and he looked for adventure elsewhere. The rider who recently made the viral "Trail to Kazbegi" mountain bike film about Georgia.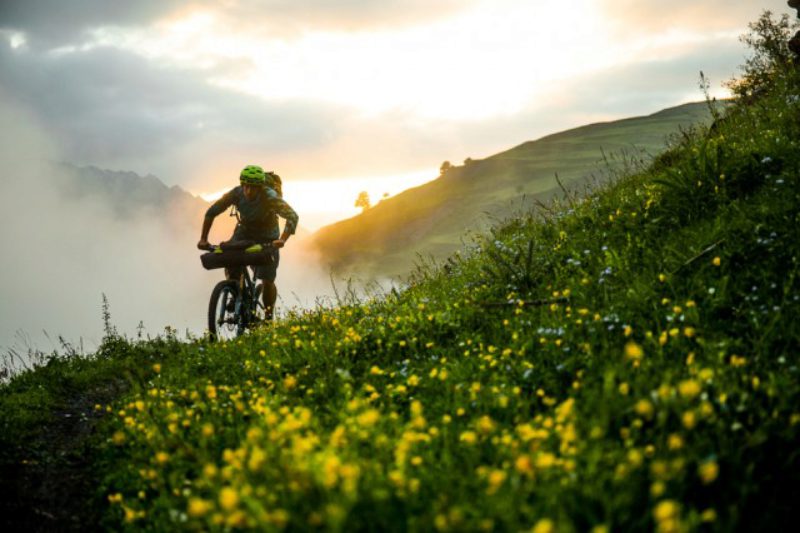 Through bikepacking you can cover vast amounts of rugged wilderness and see some of the most interesting landscapes and diverse cultures on earth…It's a great excuse to scheme to go somewhere you otherwise would never have gone.
From riding for competition, having got numerous self-fuelled journeys and expeditions under his belt, the accomplished rider now sounds almost meditative when he says:
There is always trail to be found.
A great attraction of bikepacking is being able to ride with gear into the wilderness, strike camp, remove the luggage and then go and explore shepherd trails that otherwise may fall out of reach on your daily excursion or be inaccessible via a vehicle.
For me this strikes as chord as being something central to my love of mountain biking - the seeming endless possibilities. The idea that with guts, energy and preparation you can, by human power, make distance and really explore off the roads, whilst being self sufficient.
A shortfall of cycle touring has always been the fact that you can be stuck on the roads or dirt tracks. A fully loaded cycle touring bike isn't really designed to ride on singletrack. Now, adding a bit of weight to a mountain bike in the right places can actually plant the ride, as you now see in inventive bikepacking set ups. And then when you reach your camp you can still go and use your mountain bike for what is was designed for.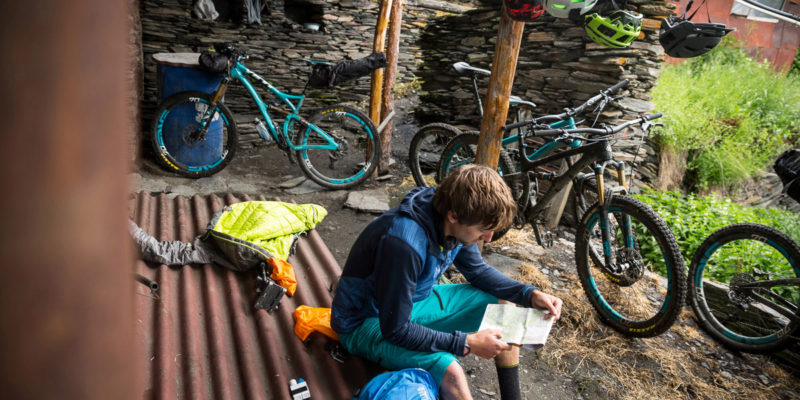 Joey schusler kit set up includes a full suspension Yeti Enduro SB5c long travel mountain bike. His bag choice is by Revelate Designs models Sweetroll, Pocket and Viscacha. Camping gear -sleeping bag (summer:30-degree Big Agnes Lost Lake SL, winter:Big Agnes Double Z pad), pad and Big Agnes Fly Creek 2 Platinum tent. Food rations. Clothes (wool socks 2 sets, buff), rain gear. Gadgets. 3 litres of water in a Camelbak. I would add to the clothing - spare lycra, fox shorts, breathable base layer, fleece, windproof and breathable waterproof of choice. If riding on rocky, uneven terrain consider some knee pads from TLD.
Food: atmeal with seeds, nuts and dried fruit for breakfast. He goes for various snacks during the day - cookies, peanuts and other stuff I wouldn't touch personally. I prefer to stick with dried fruit, nuts and the odd Snickers. At night he goes for a freeze-dried meal - I've no experience with these kinds of meals, but they probably offer a lot of convenience over carrying separate ingredients. Cooking stove is Sol-Ti JetBoil or multi-fuel MSR Whisperlite International, Sea to Summit collapsible X-Pot kettle and flask for hot / cold drinks.