REVIEWS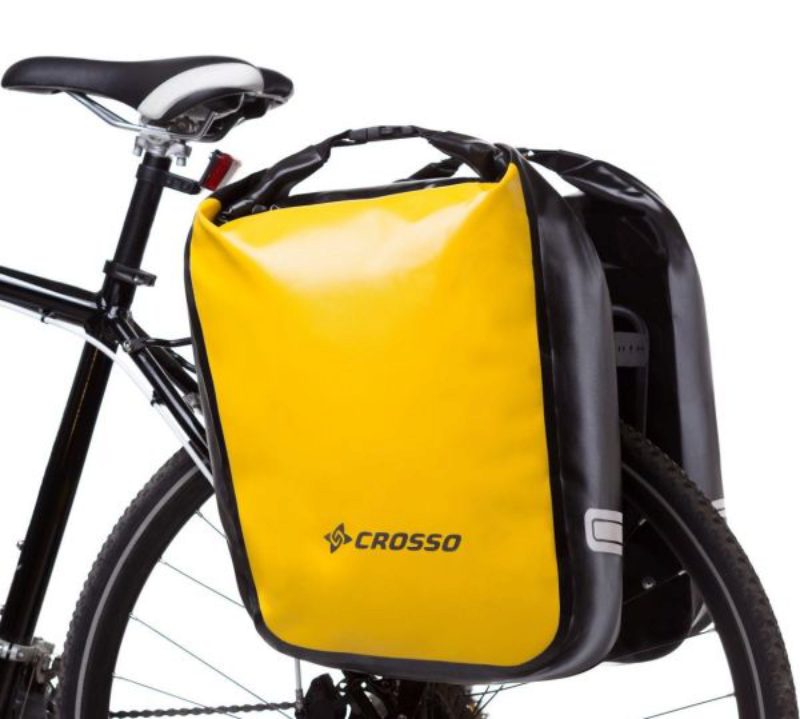 Inov-8 Trailroc 255 Trail Running Trainers Long Term Review
On my quest to find the ultimate all round shoe I felt that the answer might be a trail running shoe. My search however, took a twist, as I decided instead of finding one all rounder was to go specialised instead. This shoe was also a move away from the barefoot style of shoe I have been using - The Merrell Trailglove 3 and the Fivefingers. I was recommended by Al Humphreys the Inov-8 and so I did some research. I found them at a good price and I've been using them for about a year. They are now my general purpose shoe for running off-road.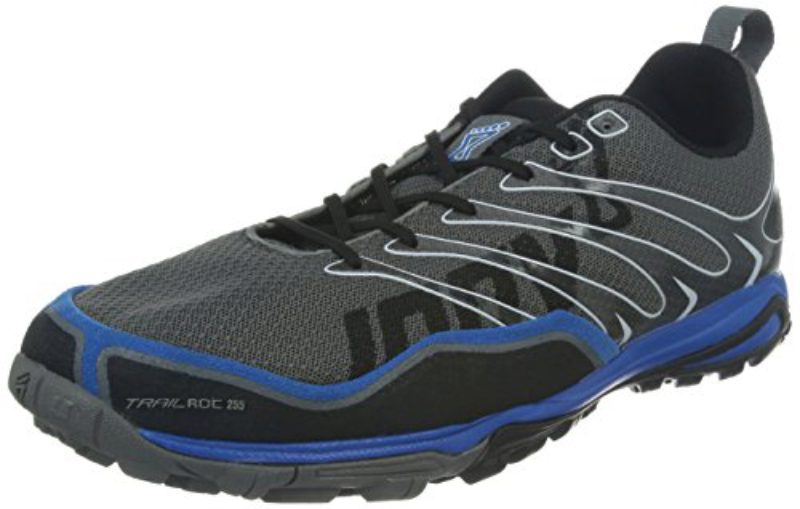 Tech Features
TRI-CTM Outsole - Combines a blend of sticky, hardy sticky and endurance rubber to deliver an optimal level of grip and traction without sacrificing durability.
Injected EVA Midsole - For comfort and a soft feel under your feet.
Outer Material: Synthetic
Closure: lace-up
Heel Type: Platform -Shoe Width: D mens_us
Natural Fit - Offers an accurate, anatomical fit that accommodates greater room in front of the foot for comfort and movement.
Shoc-ZoneTM - A 6mm differential accommodates a lower heel ridge to keep you closer to the ground and maximise your running efficiency.
Trailroc - A design specific to the INOV8 range that guarantees superb traction and support underfoot.
Founded in 2003, inov-8 is one of the world's leading all terrain footwear, apparel and equipment brands. Operating in over 60 countries, we pride ourselves in designing high quality, innovative products in both the running and performance training sectors. Our origins and footprints remain firmly etched into the muddy British fells but over the years we have optimized our products to meet the needs of the many terrains we have travelled. From the mountain summits of the Alps and Rockies to the desert wilderness of the Sahara and Antarctica, our adventures have led us to one single truth: The athletes' interaction with the environment is the single most important factor when designing products. With this sharply in mind and driven by a desire to deliver athlete-centric innovation, our range architecture caters for all terrains. Those who use our products seek fearlessness, adventure and to discover their edge. Now under the ownership of Descente – a Japanese sportswear maker with an 80-year history of craftsmanship and excellence – and with inov-8 founder Wayne Edy still at the heart of product innovation, our future is packed with exciting possibilities.
Company and Environment
They have an environmental policy.
The environment matters to inov-8…Our first priority is to understand where we should focus our attention so the environmental impact of our products is as low as possible…we have found that having concern for the environment leads us to smarter ways of working that actually save money while reducing our environmental impact…we set up an environmental "audit system" to investigate every aspect of our business…Ecological foot printing expresses the environmental impact of every aspect of our products
65% of inov-8's carbon footprint resulted from staff travel. Renewable Electricity: inov-8 will be investigating the possibility of using electricity that comes from 100% renewable sources for our office and warehouse
What the Company Says about the Product
I can't find an exact quote as the company has removed the product from its website.
What another expert says:
Tom Caughlan on Irunfar.com says
More interested of late in a shoe that can help him finish 100 miles with as little damage as possible…the romantic notion of having one pair of shoes which can handle any terrain or any racing distance keeps many of us in constant search of the next sub-ten ounce neutral shoe with a bit of protection. The Trailroc 255 from Inov-8 was designed with running on rugged and eroded terrain in mind…Trailroc 255 (Shoc-Zone 2) – 6mm heel-to-toe differential…A highly reinforced rand runs from the arch and around the toe box on both sides of the shoe which provides a great deal of protection from thorns and sharp rocks…Anatomic last provides a wider toe box than those found on many Inov-8 models…This has been my favorite Inov-8 last to date with one exception; a shallow heel cup which took awhile to get used to…Metashank rock plate which provides more than enough protection and after over 100 miles on rugged terrain I have yet to feel a sharp rock poke through…Outsole: Durable rubber and larger lugs are utilized in high wear areas, and softer rubber and smaller lugs are placed in areas where traction over rocks may be paramount, such as on the arch in this case…
Confident on technical terrain Favorite long distance offering from the company
How I describe the product
I think it looks nice but actually it is quite ugly in the blue / grey / black colour I have it in. This doesn't bother me that much as I like its technical look.
The sole is an absolute beast more like an astroturf football shoe
The protective material around the toe and side of the shoe is really durable
The mesh is surprisingly durable against thorns
The shoe is very lightweight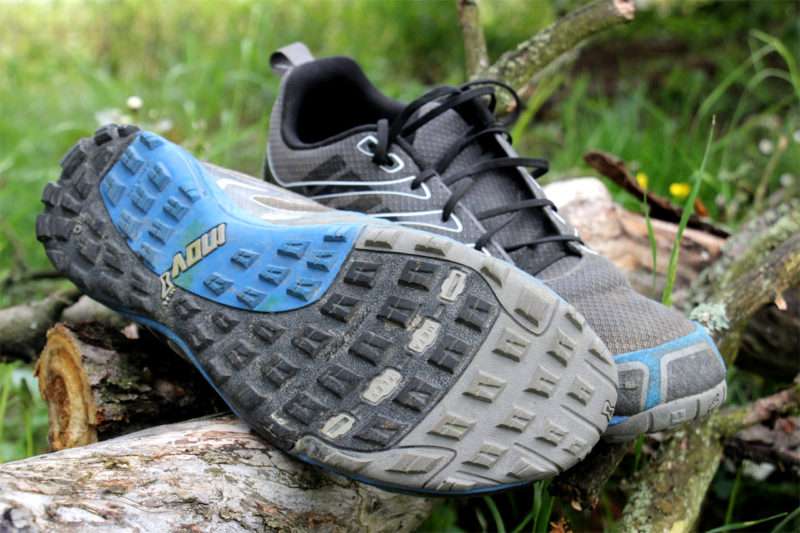 Feature benefits
The multi-rubber outsole offers differ levels of grip at different areas to match the natural pressure points providing more control
The EVA midsole is comfortable
The wide fit is good for people with wide feet and allows your toes to spread out
The spacious toe box means you can fit a pair of thick or waterproof socks
The strong materials used in the shoes make them durable against wear and tear - rocks, thorns, scuffs, tears, cuts etc.
The high tech materials allow the shoe to be lighter but still durable
How I tested the product?
I've used the shoe for a year running up to 15 km at a time on hilly terrain varying from rocky paths and trails to grass and mud.
My Impressions of the Product
At first I thought the shoe rolled too much and there was not enough support round the heel. Also I felt that the laces were too thin and narrow so they dug in if you had them too tight. However, these nags have disappeared. I noticed them because of the move from the barefoot type shoe which a bit more grounded in feeling.
I do feel as if I run differently in the Inov-8 Trailroc 255 versus my Merrell Trailglove 3. I am aware of the excellent grip of the sole - comparable to running a mountain bike tyre with bigger knobs for mud.
I am more likely to roll my foot in these shoes because of the higher centre of gravity.
How has it faired up over time?
The shoe shows little sign of unexpected damage or wear after a year of use on average twice a week around 15km.
Pros / Cons
A great all round shoe. It has really grown on me. No cons - perhaps the laces could have been a bit fatter and longer. Perhaps the heel cup could have been higher.
Conclusion
A superb all round shoe for longer distance comfort and control. Hard wearing and protective.