ADVICES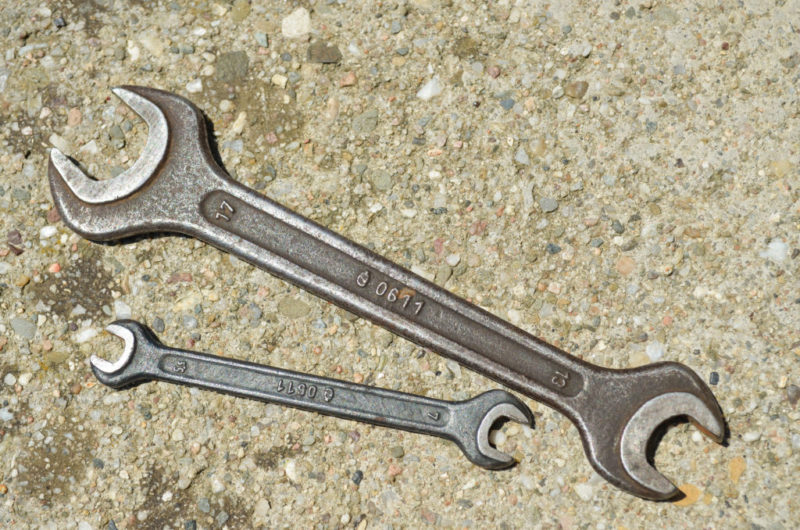 What Essential Bike Maintenance is Needed for Cycle Touring?
Maintenance you aim to do will depend on the kind of conditions you're riding in.
Daily
Give the bike a once-over about once a day.
Check the tyres by hand and increase pressure if needed. Tyre pressure depends on the terrain and the tyre.
Clean chain. Use an old rag held round the chain and turn the pedals backwards. For more persistent dirt you can use a brush.
Lube chain. Make sure the chain is clean and dry then apply a small amount of lube to each link whilst slowly turning the cranks.
Check headset for looseness. Put the front brake on and gently rock the bike back and forth. If there is sign that it is loose, if it is a threadless headset, loosen the stem bolts and tighten the headtube bolt to clamp the headset tighter. Don't overtighten it. Then redo the stem bolts.
Check wheels hubs for lateral movement
Check wheels for trueness and spoke tension. Wheel trueing it beyond the scope of this article. Check out Sheldon Brown.
Check tightness of rack fixtures and quick releases. Tighten up bolts / nuts / levers where needed.
Check cranks aren't loose by attempting to move them laterally. If there is looseness then tighten them up according to the cranks you have. Sheldon Brown article on the topic.
Check brake cables for any damage and test the brakes work by holding them and pushing the bike back and forth (not sitting on it)
Weekly
Check for general loose bolts & fittings affected by vibrations.
Monthly
Rotate chain every 3000 miles depending on conditions. Check chain wear with a chain gauge if available (otherwise check excess lateral movement and visual wear).
If you get the chance give the bike a proper wash with a bucket of slightly soapy water and a sponge working from the top down. Use a brush to agitate dirt and rinse down with cold water. Do not use a power washer ever as you push all the grease out and push dirt into where there should be grease.
If you get a puncture
When you get a flat, make sure to remove the offending pointy thing from your tire. Run you hand around the inside of the tyre (be careful).
Thanks to Adam Rice, mattnz, Danniel Hicks, heltonbiker, JamesBradbury Photo credit