REVIEWS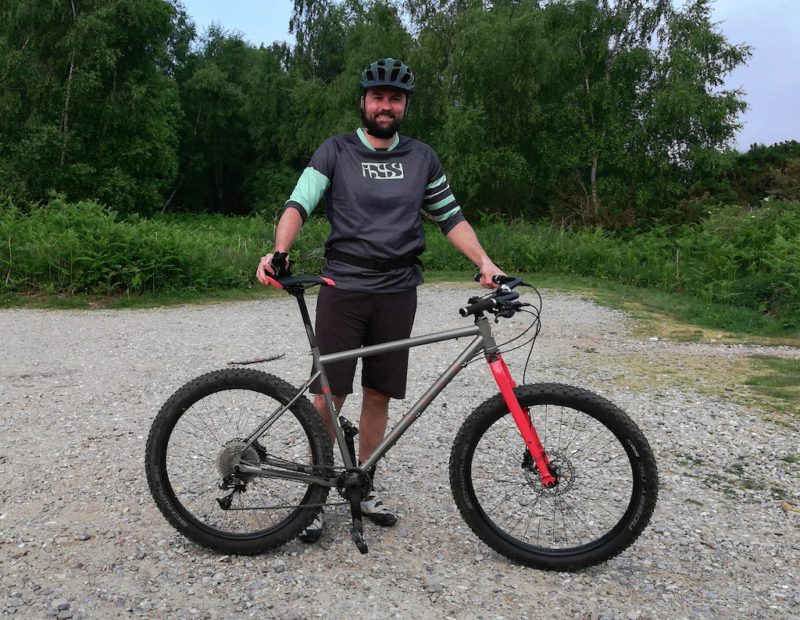 Marin Pine Mountain Owner Long Term Review
Before you read the article, have you seen my books? Please check them out. Thanks!
The bug of trawling ebay looking at bikes is something that comes round often. Before Christmas it started to creep up on me. Each day my inbox was filled with ebay followed searches for a variety of terms, I started buying mtb magazines.
The itch of needing to buy a new bike was getting difficult to bear.
Then I spontaneously bought a Marin Pine Mountain. This is is a classic bike that Marin relaunched in 2016 in a 27.5+ wheel size, with a steel frame. I had seen one in a local bike shop and had swung my leg over and got a good feeling. Solid steel, big tyres, wide bars, 1x10 drivetrain. It seemed difficult to fault (at the time on first impressions).
I drove up to Grantham to pick it up from a guy who had just had a kid. The bike was propped against the kitchen table. We exchanged a few words and then I was off, the bike in the back of the car and back home.
In the ad the bike was fitted with Renthal bars and a 50mm Renthal stem. I presumed that this was a set up for which the bike was designed.
However, on my first ride out in the local woods, it was clear that the XL size model and be being 6'2" was not going to be a good match up for such a stem with this bike. I had a look at the original spec and it looks like bike usually comes with about a 90mm stem which is quite long by today's trail hardtail standards. This bike was a bit of a mystery but that was part of the attraction.
First impressions
| Spec | Value | Aesthetics |
| --- | --- | --- |
| Steel frame | Affordable price | Nice colours |
| Disc brakes | Robust build | Geometry is unusual |
| 1x drivetrain | Finishing a bit rough | Looks modern |
| Big tyres | Standard kit | Nice graphic detailing |
On further inspection
The guy who I bought the bike off had said that the front brake was not as 'firm' as he would have liked. I questioned him about whether it felt spongey and needed bleeding. However, he had said that the bike was basically new and on getting the bike it was.
Having a closer look at home, it was the old chestnut of a contaminated rotor / pad.
Either oil had got on them or they hadn't been bedded on properly. Ok no problem, this can be sorted out quite easily. Second isues I found was that the gears wouldn't change into the biggest ring on the back. I realised it was because the chain was too short so I got another KMC chain and sorted that out. The seatpost that comes with the bike is laid-back. In a review I had read that the geometry sat you a bit back when climbing so I thought, get an inline seatpost. Having done that and put a longer stem on (110mm) the bike was rideable.
First ride impressions
With the bike set up having tweaked it as mentioned.
Pros
Big tyres are sure-footed
Weight helps momentum (it is a heavy bike).
Sram X7 shifts nicely
Feels beasty
Cons
Bit of a slogger on the road with the big tyres
Longer stem makes the front end feel a bit flappy
Weighs a tonne
Other things
Loads of places to bolt stuff
Temporary Conclusion
As I read another review of this bike, it is more of an adventure / bikepacking bike than a pingy trail hard trail, but for me that isn't necessarily a bad thing.
I have picked up a frame-bag and I'm hoping that I will be able to get in a bit of exploring. More to come.
Snow riding
I used the bike riding in the snow with low tyre pressures which it was excellent for. Grippy, floating over the snow - great fun! The bike worked brilliantly in these conditions.
Update 31.5.18
pros
Big tyres, great grip and confidence
Wide comfy bars
Steel forgiving and power transfer
For an adventure bikepacking frame the geometry is similar to a lot of more expensive frames (compare it to the Surly Ogre)
cons
Fully rigid requires a lot more bent arms on trails
Without the right tyre pressure and riding style you can find yourself bouncing about all over the place
Frame is strangely heavy but it might be just the forks that are made of lead
Top tube should be longer if this is a trail frame
Update 7.6.18 - Trail riding at Tunstall Forest (The Viking Trail) - Suffolk, UK
I took the bike with me on a trip to the east coast of England and to a forestry commission trail nearby in Tunstall Forest. The loop is 10 miles of sandy forest singletrack.
The steel frame is forgiving
The weight of the bike is felt and it takes effort to get it up to speed
The rigid forks require a lot more 'arm suspension'
The Soma Osprey handlebars were very comfortable on the trail
Missed my dropper seat post having got used to it on my other bike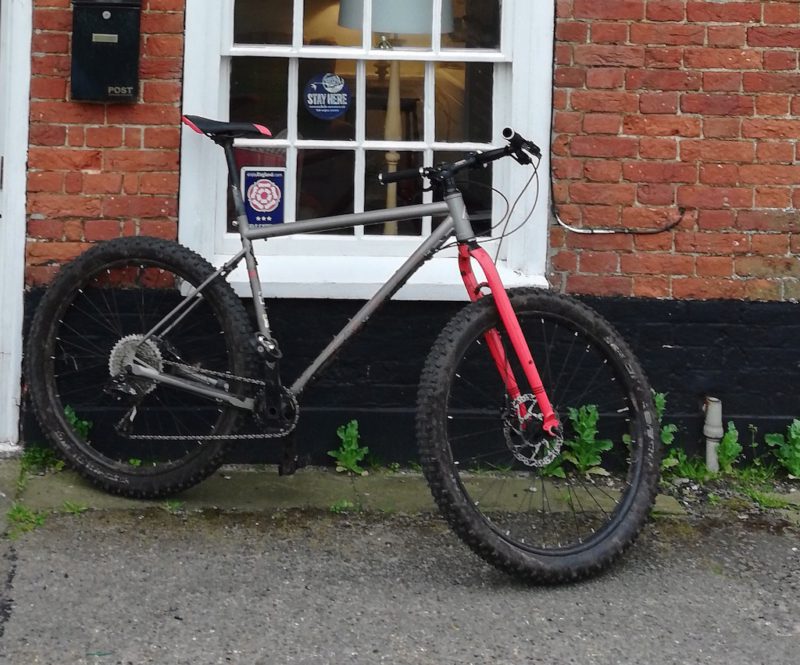 Update
I used the bike for commuting to work. My commute usually involves some off-roading and the bike offered comfort on these sections. The tyres certainly dragged on the tarmac sections, however.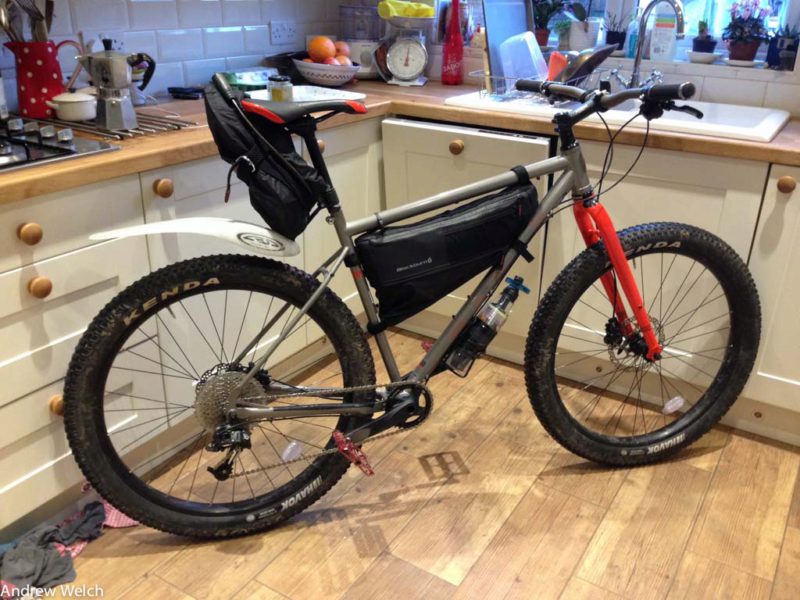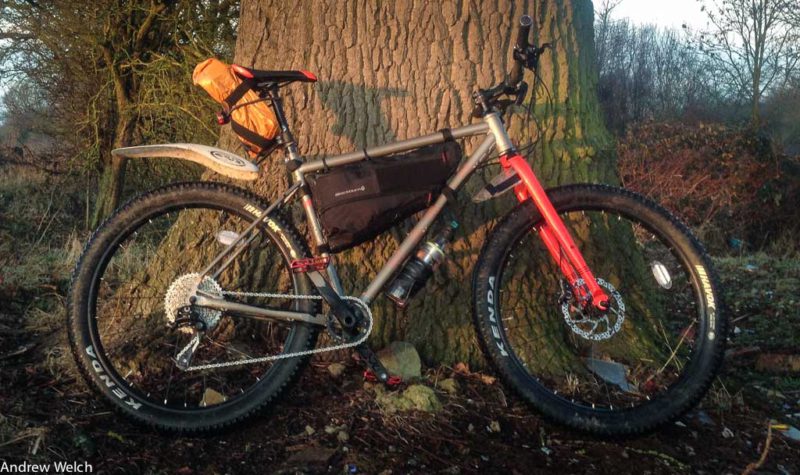 Update 09/18 - I sold the bike!
After taking it on a bikepacking tour round the Gower peninsula (and I took the bike on the White's Level trail at Afan - ouch ), I decided to sell it. The frame was slightly too small for me (XL). They do an XXL too (weird). Overall a good, strong, solid bike but somewhat rudimentary.
PS
Coincidentally the bloke from BikeSnobNyc has one of these bikes and has some funny posts on the go about it.
And I just noticed that he said he is planning on only riding this bike all year. What a nutter.
His bike with nice Jones H-bar.