ADVICES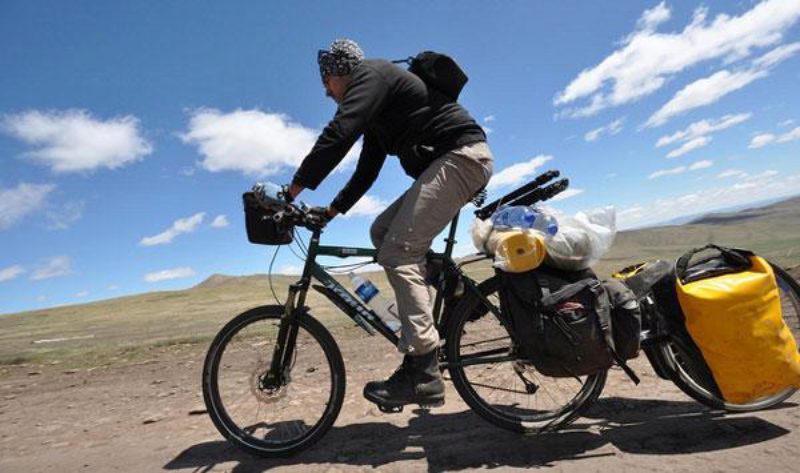 What Kit Do You Need To Go Adventure Cycling?
The idea is to design your bicycle touring equipment kit list that you don't even need to think about it when you go on your cycle trip.
A good system will allows you to concentrate on the experiences of traveling by bike without your equipment being a distraction or frustration.
I come from a mountain biking background which is why the kit I decided to take leaned towards mountain biking. I would recommend tailoring your personal kit list to the type of touring you will be doing.
Clothing
Lycra shorts
Long sleeved breathable base layer
Short sleeved breathable base layer
Sports-style shorts (for casual and over-the-top of lycra wearing) such as the Kona Stuff shorts.
Pair of sturdy boots (can go for the Shimano Trans-Alp boot or perhaps a comfortable walking boot) – whatever is comfortable is best, but you will be living in them.
Couple of pairs of cottons socks (we also had special breathable socks called 1000-mile socks which wicked the sweat away very well).
A breathable fleece jumper / jacket from a reputable brand
A waterproof jacket - cycling specific shaped is ideal
Waterproof trousers (£7 from Aldi!)
1 pair of underwear - whatever is most comfortable although a thong might be more practical for washing
1 smart cotton shirt - perfect for cocktail parties and champagne receptions
1 pair of lightweight cotton trousers for loafing
Gloves - I had fingerless for the summer from Decathlon but full finger gloves for the winter.
Oakley sunglasses or equivalent high quality pair - sunglasses are an essential piece of kit and it's worth investing in a decent pair
Helmet
At least 1 Buff headwear item
Additional luxury items
Pair of waterproof socks from Sealskin (not that waterproof but warm - they melt well in fires too)
Camping Equipment
MSR Dragonfly stove (or Trangia multi-fuel) - will burn petrol, diesel, alcohol, meths, parafin, etc etc
MSR Miniworks water filter
Vaude Hogan Ultralight tent (weighing in at 1.4kg) - the pole break after a couple of years
Mountain Equipment sleeping bag - I've got the -25 comfort one. Warmer sleeping bags are generally heavier.
Silk sleeping bag liner - bought off ebay.
Multi-tool (Gerber or Leatherman- although most of the tools now broken off the leatherman)
First Aid Kit
Czech ex-army pan set (from Ebay)
Additional luxury items
Bike Fixing kit
Alien Multi-tool
Puncture repair kit
Cassette tool
Additional Luxury items
Mini adjustable spanner
Bottom bracket tool
Crank extractor tool
Cone spanners
Spare tube
British army issue poncho
British army issue bivvy bag
Bike
Kona Explosif or Caldera Frame
Sun Rhynolyte Rims on Shimano XT hubs with DT swiss butted stainless spokes
Schwalbe Marathon XR 2.25 touring tyres
Magura Odur touring forks
Adjustable stem
Yeti lock on grips
Cheap pair of bar ends
Shimano 8-speed rapidfire gear shifters
Shimano XT front mechanism
Shinano XTR rear mechanism
Fibrax, Clarks, or Shimano XT gear cable inner and outer
Magura Louise Brakes, levers and discs
FSA X-Drive cranks
Wellgo V12 copy flat-pedals
SRAM 8-speed chain
Shimano XT 8-speed cassette
Bontrager seatpost (although Easton or Thomson preferred)
Brooks Champion Flyer Saddle (became mis-shapened over time.)
Tubus Logo rear pannier rack
Carradice Super-C Panniers
Extrawheel Voyager single-wheel trailer with Crosso panniers
Chris King Nothreadset
Bike spares