TRAVELS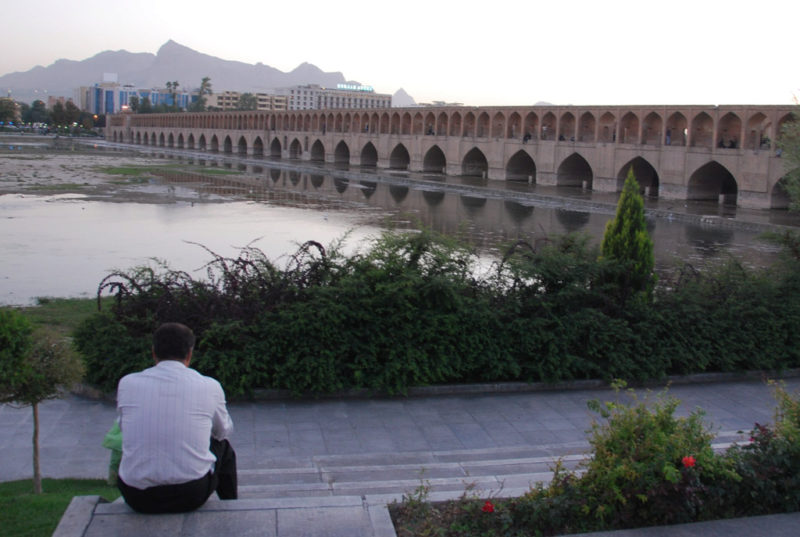 Layers of History and Breathtaking Architecture In Iran
I wanted to write something more about my experience in Iran. At the time I didn't write much on the blog. But I did write a lot in my diary which will appear in a book in the future. Some experiences stay in my mind in particular. They started at Agarak, the Armenian-Iranian border. I remember arriving, riding next to the border fence, feeling scared cycling over the bridge of the river signifying the border, the border guards poised with guns on tall turrets. After tentatively pedaling across the 'No man's land', and going through the administrative process, I felt relieved, I had managed to get across the border even though the border officers tried their best to nullify my visa. Perhaps my passport was fake because it said 'Great Britain' instead of 'England' and it also said 'Ireland' which wasn't England either. Anyway, I got through and I had a pant-tearing ride down a wind-tunnel of a valley. Steep pointy mountains. A scary, exotic but exciting place on first impressions.
On the way to Tabriz I decided to hitch through a nasty road tunnel. A friendly chap in a pick-up truck stopped. After the tunnel I asked him where he was going and he said, Tehran so I thought why the heck not and asked to go with him. We arrived after hours in the cramped truck, complete with special 'chay glass holders'. Whilst the man was waiting in a queue to get fuel, I met two students about my age, who I asked about a place to sleep. They seized the opportunity to help, and took me to a public garden to sleep. I was thrilled to make friends so quickly. A beautifully maintained park with fountains, neat flower beds would have been a grand place to sleep but the security guard said the police would clear me off if I slept there. I looked as needy as possible. I didn't want my friends to leave me at eleven o'clock at night in a Tehran suburb without knowing the city at all. My host, after a phone call to his dad said it would be ok to sleep on the roof of his flats and thus I found myself eating traditional Iranian food next to my tent on a dusty roof of an apartment block overlooking the lights of the city of Tehran.
I stayed on the roof for 3 nights. I went roller skating as one of my hosts was a roller skating coach. Tom and Tenny arrived in town, and we had an interview at a glossy Iranian travel magazine and met the editor of the biggest newspaper in Tehran and one of the leading environmental scientists to get some interesting insights into his thoughts on the effects of climate change in Iran.
After a couple of days I left them for another Couchsurfing Host, my friend Karim who hosted me for 1.5 weeks whilst I waited for my Indian visa. We got on like a house of fire, having rambling conversations about just about anything but particularly cycle touring and future adventures. He himself had cycled from Tehran to Scotland. His mum was Scottish and dad Iranian. His dad had worked in construction, building roads in South Iran. He was also an incredible cook, and I was treated to daily feasts of delicious rice, bowls of osh (chickpea soup), and chello kebab - Iranian cuisine . Karim also had the coldest swimming pool I've ever experienced in which it was practically impossible to swim more than ten lengths. No matter how hard I swam I ended up shivvering. It must be very refreshing in the mid-summer but I was there in October 2008 and it was starting to cool down. I felt a little too comfortable at Karim's, making a good friend very quickly. I knew it would be difficult to leave.
Karim and I took a bike ride up to the mountains above Tehran. Big dry reddish coloured hills. I felt attracted to them like a magnet. I have an urge to go back their again even now (mountains and nothingness = intrigue). We ventured back down into the city of bustling people, cars, cool, neat, exotic, different but still dusty and citylike.
The ride out of Tehran was a leap into the unknown for me. I had been killing myself worrying about the crossing to Iran to Pakistan and the perceived danger of Southern Iran. Now I was actually making tracks towards that point. And it didn't feel that bad. Life was carrying on. No groups of terrorists emerged from the desert. No one tortured me because I was English. No Americans bombed me or water-boarded me. I didn't die of thirst or starvation. I did managed to cycle huge distances through ghostly plains on the edge of the Dasht-e Kavir desert.
[
](<a href= "Iran Picks - Travelling by Bike October 2008 (8)")
I cycled past the religious city of Qom and on to Isfahan. On the way I stayed with a family in a town call Meshikat. I asked for a place to camp and was taken into their family home for the night. I was sat down in the big living room with light blue walls on carpets, cushions positioned against the walls round the room. The extended family lived there.I was shown the carpet weaving process in the garage. The completed carpet would sell for $500. I met all the of the family, sat and drank chay and ate more delicious food. At prayer time my hosts prayed. The women of the family prepared food in the kitchen and only showed up for sleeping. I managed to get in a thank you in a sort of shuffling, embarrassed way when one was hastily passing through the living room. I slept on the carpet under sheets with a pillow in luxurious comfort. The family had a collection of pigeons on the roof in two big cages which they bred to sell. It was strange to be invited up to the roof and then see cages of pigeons which most people regard in England as flying vermin. At first I thought they were for eating but pigeon breeding is an Iranian traditional. For example the Iranian Highflying Tumbler is bread for endurance flying competitions.
[
](<a href= "Iran Picks - Travelling by Bike October 2008 (4)")
The Iranian people were always very helpful and hospitable. They would say it was part of the Iranian culture and it is but perhaps it is so strong because of the history of nomadic peoples in Iran when being nice to strangers was a survival skill to see if the nomad had anything you needed. Likewise if you were a travelling nomad and needed help you would hope for the same treatment in return. Perhaps the hospitality in Iran is more pronounced because the environment is more unforgiving meaning that the people needed each other more to survive.
The emptiness of the desert spaces was in it's way beautiful, nothing to distract, nothing man-made, no input, very meditative. The only thing created in my own head was long trains of thought which I became quite fond of and recorded into my dictaphone. My bike was set up really well and I had a strong feeling of flowing with little effort, completing long distances. In fact I was putting in a huge amount of effort but it became the norm to start early, put in a long day, push big gears and I started planning when I would be at the next place based on 150km days.
I arrived an Isfahan pedalling along a long urban street, tussling with traffic, and reached the Zayandeh river. I was presented with the Si-o-se Pol bridge . A stunning sight illuminated in the dusk light, buzzing with people. I grinned a huge grin to myself that I was there and by bicycle and thanked myself for continuing my bike adventure.
I met Couchsurfing friend Sharim and stayed with him and student flat mates including Omid whose parents were visiting. We went for a night walk along the river side. A beautiful city. Isfahan is soaked with history and culture. People are continuously wandering over the bridge, meeting, taking photos, gazing and enjoying the atmosphere. We walked along to the Khaju bridge , there were a group of people singing but my friend wasn't keen to hang around as the police had been stopping people from singing old songs which weren't in line with the current regime.
[
](<a href= "Iran Picks - Travelling by Bike October 2008 (6)")
The following day I took a trip to the Hasht Behesht . A palace from the Safavid era, and the Jame Mosque. Although I didn't get in to the mosque because they were just closing for prayer, I did get a glimpse of the big court area. The beauty of some mosques in Iran was awe inspiring, I found to be incomparable to anything else I've seen. Some seem to reach a logical conclusion of an idea and design, close to perfection. With greenery and water fountains within the dry, arid mountains and deserts, the mosques seem to appeal to a base instinct which adds to their attraction.
The government in Iran seemed to occupy a strange place in the minds of the people. People didn't seem particularly decisive about whether the existing regime was good or not. The people I was in contact with, had differing opinions, some seemed happy to go along with things as they were, some seemed strongly against the rules but going through the motions as best they can.
There was a strong sense of culture and history and a strong will to protect that. Anyhow that was what represented the true identity of the country. A legacy of history too long and rich to be hidden by one modern period of history. There was a feeling that the current regime was only a temporary thing and would most likely be in flux anyway. People seemed to choose to deal with whatever was presented to them as best as possible. These are just feelings that I came away with and based on conversations with people I met.
After Isfahan the landscape between the big cities was bare and remote. I choose to take the highway because I had an urge to make progress. The roads were extremely good quality. I went through the city of Yazd. After cycling a whopping distance and being towed the last thirty kilometres by a guy and his girlfriend on a motorbike, I arrived at a big mosque on the outskirts of the town. Happy, excited, exhausted and thrilled. The mosque was an oasis of beauty, light, calm and peaceful. I asked about accomodation, and after first being given a spot in a gravel car park to sleep ended up with a fine room in the residential accomodation of the mosque.
The next day I couldn't find a Couchsurfer but met a stone mason working on a mosque who ended up inviting me back to his house and showing me his workshop where I saw a range of white marble sculpted items including huge water basins, and fountains for a mosque. In his home, I couldn't see his wife because she was always hiding under a full veil. His daughter was training to be an architect and was at university. He was a very conservative man who I got the impression liked to know that everything was in it's place and just so, but at the same time he saw something interesting in me. Perhaps he respected the sense of adventure, self-reliance and independence and wanted those qualities in his younger son. I like to think he perhaps dreamed of travel and adventure.We shared a mutual cultural curiousity I think.
I met up with another Couchsurfer in the centre of the city and went to see the Zurkhaneh . A national sport of Iran. A basement room that felt like I was going to watch a sweaty, seedy backstreet cockfight or something (not that I would know how that felt). The main pit where the exercise occurred was sunk into the ground with a wooden floor. Foreigners and other spectators sat around the edge. Foreign women sat with headscarves half falling off self-consciously. There was a bus- load of grey-haired Europeans sitting looking bored, and weary round the edge of the ring, amongst other travellers and locals.
The men gathered in the pit and first they did a long warm up of various stretches, and exercises. It went on for ages and looked exhausting. Just as all the men were starting to look thoroughly sweaty out came huge wooden clubs, shaped like traffic cones, which were swung up and down in rhythm with a drum that changed pace. This process is called Pahlevan. There was a 'DJ' of sorts called a Morshed . A young man sitting in a DJ booth above the ring organising the timing of each exercise and the rhythm. It was a little bit boring to watch, and smelly. It was weird that people came to see a bunch of circa forty year old Iranian men getting wheezy, but then it was in the guide book and it does have a more interesting history.
[
](<a href= "Iran Picks - Travelling by Bike October 2008 (3)")
I then visited Kerman and stayed with another Couchsurfer for a couple of nights. I visited a local market and cycled around observing the daily life of people. I watched a man hit a motorcyclist and an ensuing argument take place. Neither was seriously injured luckily. The further south I went, the more interesting things were. The culture was more alien, people tended to notice me more, and it felt more wild and unknown. I felt torn all the time between an urge to move on and an urge to hang around and gaze, watch people, make notes, write, and take pictures.
[
](<a href= "Iran Picks - Travelling by Bike October 2008 (2)")
On the way to Bam the last big settlement before the Pakistan border, I stayed with the Iranian Red Crescent, the roadside emergency medical aid service. They took me to see a huge caravansary which had been renovated and now was in a traditional style of luxurious Persian. Circular outer walls and octagonal inner spaces, surrounding a central courtyard and fountain, rooms around the edge, for eating, sleeping, drinking tea, relaxing, and smoking nargile. It felt like I had been transported back a couple of hundred years. The things spoiling my authentic experience were the bus load of European tourists in western clothes, probably unable to fully enjoy the experience because they were too worried about if they could afford the price tag of staying there. The proprietor of the place invited me to stay there but I chose to stay with my friends in their roadside caravan instead where I ate a chicken biriani-style dish.
I previously wrote a reasonably decent blog post on my experiences from Bam onwards so I will leave you to read on. To get into the real grit of my experiences of Iran you will have to wait until I write up the second book of the journey from my diary and do something with the audio recordings and String Films do something with the film. Feel free to lobby them at their website http://www.stringfilms.com . I am presently at 130k words of the first book from England to Georgia after a minor set back losing about 15k words (my own stupid fault+nightmare=probably better written the second time around anyway). I'm going to write a blog post similar to this about Pakistan and I also have one to write about a trip I made to a Leprosy home in New Delhi and an interview I did with the founder. All to come, thanks for reading.