POSTS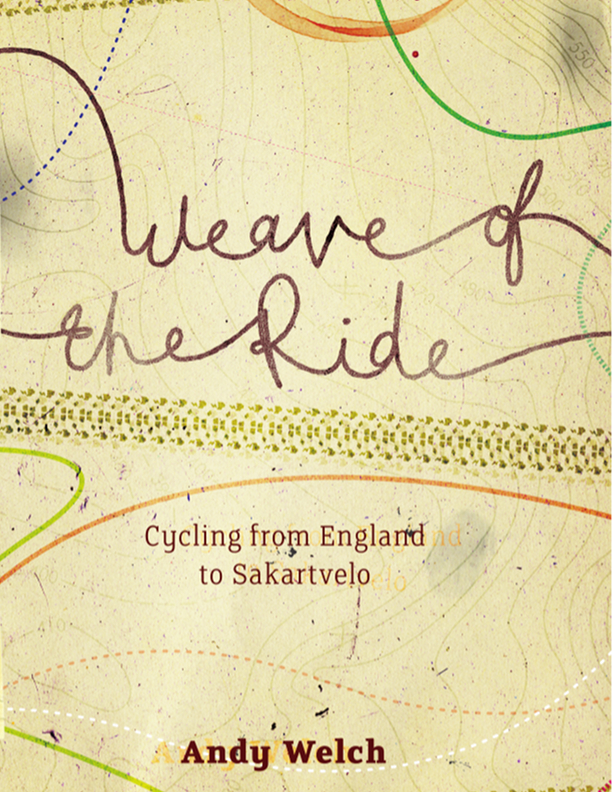 Latest News About the Weave of the Ride Book and Cycle Touring In Europe to Keep Updated
Weave of the Ride is a blog about a tour across Europe I did. This blog is here because I wanted to nicely re-edit and represent.
According to Google Analytics, Gear Reviews are a popular part of the blog but check out the blog posts from the road. Even though I wrote a book about the story the blog posts have that certain quality from being written from the road.
The book is primarily about the process of going from a sedentary normal live to a life on the road, breaking free of all constraints, having an adventure. It was practical and there was a geographic, a philosophical and creative goal. Geographic: To cycle round the world. Philosophical: to develop personally and become wiser. Creative: to become a good photographer, make a film, write a book and keep a blog.
I became a better photographer. I didn't make a film (yet). I wrote this book and another book (Between Worlds) and I kept a blog. I also taught myself web development in order to be able to maintain the blog. Now the blog is a beautiful website, that involved a designer from Japan and a whole bunch of new and newly edited content and photos. A lot of hard work has gone into this blog alone.
I've utilised social media with a Facebook page and Twitter, I've done photo essays on my photography blog, I ran a book launch event in London and I do talks about my journey.
A huge amount of effort went into producing the book - four year writing and returning back to the story. The more important thing now is the book, the story, the writing process and the publishing process. I decided to self-publish, but because I didn't want a stockpile of books, I decided to use a service called Createspace, which is a company owned by Amazon who print on demand. Its now possible to print with a matte cover, egg-shell coloured paper, and the book looks pretty good.
If you, run a Kickstarter campaign to get your audience on board beforehand and then use that to pay for the bespoke production of the book then you can do things a bit differently.Theoretically the print-on-demand way should work great but the books only come into the world when people buy them. There isn't this huge weight of a thousand books around your neck that you absolutely have to sell. I rather like this feeling myself.
I sell copies of this book, but I don't sell that many. They sell on Kindle. I'm not sure how people find out about the book (its not just my friends and relatives buying them anymore) – either through talking about it, social media activities or the blog.
When I did a talk and printed out books, I could see people giving me money and I knew who the people were and that they probably bought the book because they came to the event and the books were right in front of them, money was in their wallet, so it was incredible easy to make the purchase.
But anyway, right, I'm not going to become a millionaire off the back of this book. I'm am concerned with getting the story out there and getting people who are interested to read the story, which is a good, well-edited, piece of travel writing and inspire them to make a journey themselves.
So whats the solution to getting the story out there? I tried something weird- which was to write a program to split up my book into sentences and post them to twitter with hashtags and a link.This is a really funny thing to do, sometimes people favourite these tweets. It made me think about the idea of deconstructing the text and dense prose.
The format of the modern travel (or most popular books for that matter) is a standard size (or small range of standard sizes). However, these days there are amazing facilities online for retelling stories with multimedia channels mixing photography and text. Perhaps you could geolocate sections of text and photography and then post them over a map. Perhaps chapters could be turned into story mash-ups that retell the story completely differently. There are a lot possibilities and potential for learning here I think. So this kind of things is on the cards. I have, in other trips I've done, started experimenting. For example, my recent walk in Spain – Bajada.
I want people to get access to this story and get inspired. That's the whole point of it. It becomes alive again when people are inspired to take something from the story and go and make their own in the world.
But its also a learning process that is pretty personal and I've gained a lot from the process myself. How do you make a trip like the early part of my bike journey alive again and involve people. Say example if you could introduce people is to the process of preparation, or give advice about how to give themselves more freedom.
Perhaps, you could go on small bike tours to give a taster of bigger things. How does one marry up the possibilities with what is still a personal journey?
If you come across the blog then I want to reach out and get feedback from you. 
Do you like this website? If so, which is your favourite part? The original story, the writing process, the gear reviews, the people or something else?
Have you bought the book?
Have you read the book?
What did you think to the book?
What do you think to the design of the site?
What could be improved.
These kind of things could be helpful to get feedback (please email me or write in the comments).