REVIEWS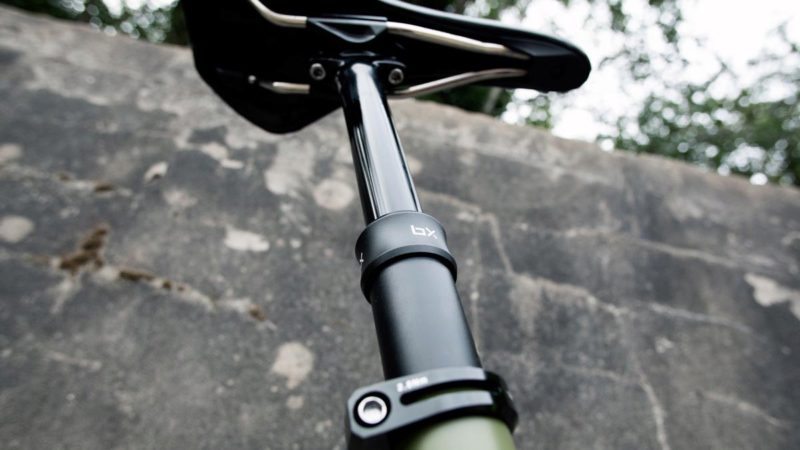 Brand X Ascend Dropper Seatpost Review
On first look you might think a dropper seatpost is another gimmick for bikers with too much spare cash. However, out riding recently with others with dropper posts, everyone was raving about them. I thought about the possibility that one offers - simply being able to change your seat height on the fly. When mountain biking it is necessary to shift your weight and body position around on the bike and move the bike around under you.
Being able to get the seat out of the way when necessary gives much more space to do this. Then when you need to sit and pedal you can put the seatpost back up to a height where you can extend your legs fully. Recently I been in the habit of not changing my seat height on a ride but in the past I have and it depends on the kind of riding. For a long gnarly descent being able to put your seatpost down can really be helpful. The Brand X Ascend offering is affordable and has good product reviews.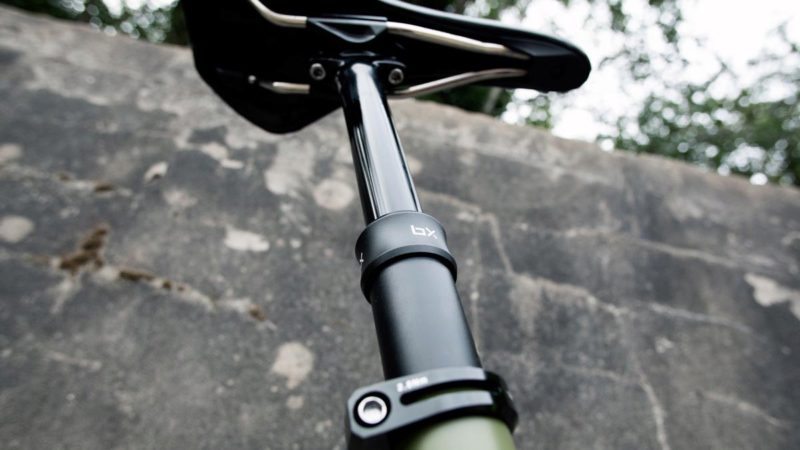 Technical Features:
AL7075-T651
Bar mounted shifter style remote lever
Cable operated internal routing
Linkage mechanism eliminates any outer cable pull
Zero Offset one piece head/upper shaft with micro adjust clamping mechanism
Diameter: 30.9mm or 31.6mm, Length: 410mm, Travel: 120mm
Cable Length: 1.5m
Finish: Sand Blasted and Hard Anodized Black
2 Year Warranty
Weight: 550g W/O Cable and Shifter (31.6mm)
Company information:
I've read that Brand X are Chain Reaction Cycles own brand. Chain Reaction Cycles are a large online bicycle shop who have their headquarters in Ireland. In 2017 they merged with major competitor Wiggle.
What CRC says:
Brand-X's Ascend Dropper Seatpost can be operated remotely with ease, providing riders with the ability to tweak their saddle height for the terrain ahead. Internally routed, you can keep your hands on the cockpit whilst you dial-in your saddle height. The Ascend Dropper Seatpost has set a new benchmark for reliability and performance at an excellent price point.
What the Top Reviewer Said:
As of writing this there are 140 5 star reviews for the Brand X Ascend Dropper Seatpost on the Chain Reaction Cycles website. The review considered the most helpful states:
Pound for pound the best dropper I've used… I've had three dropper posts previously: The Specialized Command Post, Rockshox Reverb Stealth and Thompson Elite Covert. … Travel is smooth and stiction free. The seat moves back into position at a nice pace. The lever has a nice feel to it and the cable pulls with a nice amount of resistance so you can feel you are operating it without having to force it. If I had the same lever on both I would struggle to tell the difference blindfolded between this and the Elite Covert.
Video Reviews
Review: https://youtu.be/nYmTHLAJTuo Demonstration of post working: https://youtu.be/6jNBMVatWvk Another nice review: https://youtu.be/JErk7Mc_JEk
My take:
Dropper seatposts are a fairly new addition to mountain biking kit but some consider it to be one of the most important innovations since the disc brake. The Brand X Ascend post looks pretty standard, nothing special, but there are some reassuring design features. The cable pulls a lever on the bottom of the seatpost that activates a valve on a cartridge that either holds or releases the pressure inside depending on rider pushing down on it, or allowing it to rise up.
https://youtu.be/sI6WI1sho_M
Feature / Benefits
Cable operated internal routing is neat (but make sure your frame is compatible)
410mm length is quite long for a seatpost giving strength
Sand Blasted and Hard Anodized Black finish is durable.
2 Year Warranty means you have peace of mind
Pros
Control lever is large and solidly built
Good price
Offers lots of new possibilities when riding
Cable operation is simple and easy to fit
The 120 mm of travel isn't the longest you can get but it also isn't the shortest
The movement of the post is near flawless
Cons
An extra thing to go wrong
You have to make sure that you press down the control lever far enough to pull the cable, which you may not get with a hydraulic version
There is a tiny bit of rotational and fore aft play in the stanchion, but upon contacting CRC about this, apparently it is normal
Conclusion
I've only just got the post and used it for about 100km of riding. Fitting it was straightforward and performance so far has been flawless. I'll add more updates if I find any issues with it.