REVIEWS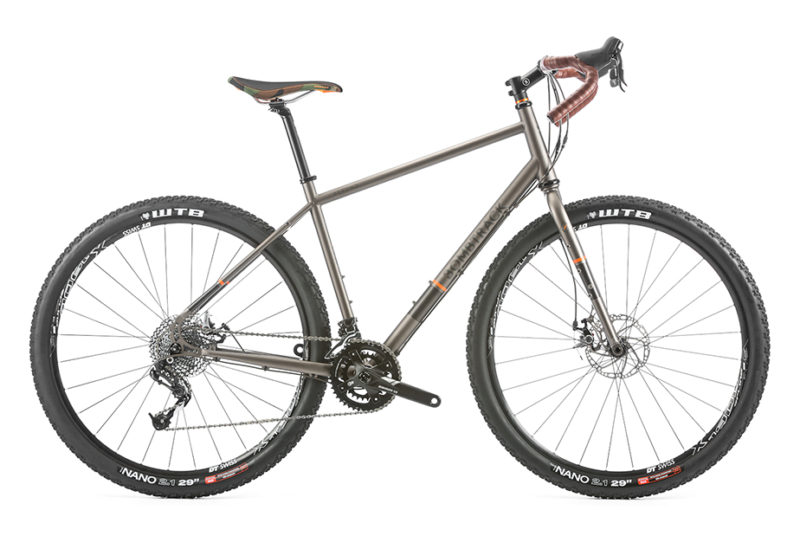 List of adventure, expedition and bike packing bikes 2016
I recently came across an excellent resource on cyclingabout.com. It is amazing the level of research that has gone into the list. The number of companies offering bespoke touring bikes is mind boggling. This is why I've been through the list and picked out the ones that appeal to me. I'm on the search for a new adventure bike.
I recently tested a Surly Long Haul Trucker. It is a great bike. It made me wish a little that I had gone for an off the peg bike instead of putting together my own, simply because the frame geometry is so planted and that little bit of extra weight makes it flow along.
However, saying that my desires have changed since then. I can't say that I want to go for weeks alone on the other side of the planet, battling the roads as before.
The rise of bike packing has caught my imagination, especially with a mountain biking background and having been a a first adopter of bike packing - riding across Scotland back in 2006 and more recently excursions in the Caucasus mountains with a couple of panniers on a mountain bike.
There are so many absolutely gorgeous set ups out there designed for purpose. The Surly Trucker will take you round the world for years if that is what you want. Now you can get many bikes designed for multi day trips off road such as the Surly Ogre and the Salsa Fargo that borrow from mountain biking and expedition touring.
Having used a mountain bike for the majority of my trips I can see the benefit of a bike that can do anything. The road-styled touring frames still lean towards a tradition of touring bikes of the past which is fine, but bike packing tech is breaking new ground. Ten years ago you were considered a bit mad for mountain biking but even more mad for taking your bike hiking (or lugging it where you aren't supposed to go).
That is the essence of adventure and a bicycle is the most beautiful, essential tool for augmenting human mobility. I was writing blog posts back in 2005 about reccy bike trips in Croatia to find new trails. Is bikepacking the next fad? Well adventure cycling has become much more popular and well served than it once was but it is still a niche. Best to stop thinking, choose a bike and get out there.
Still, attaching stuff to your bike is never going to improve the way it rides.
The following list is my picks from the list which are generally either in the trekking, mtb, bike packing category or in the expedition category. These are probably the only off-the-peg adventure bikes I will be looking at before considering a custom build.
Surly
Soma
Salsa
Co-Motion
Edinburgh Cycles
Genesis
Tout Terrain
Kona
Rando Cycles
Bombtrack
Bottcher