TRAVEL-REPORTS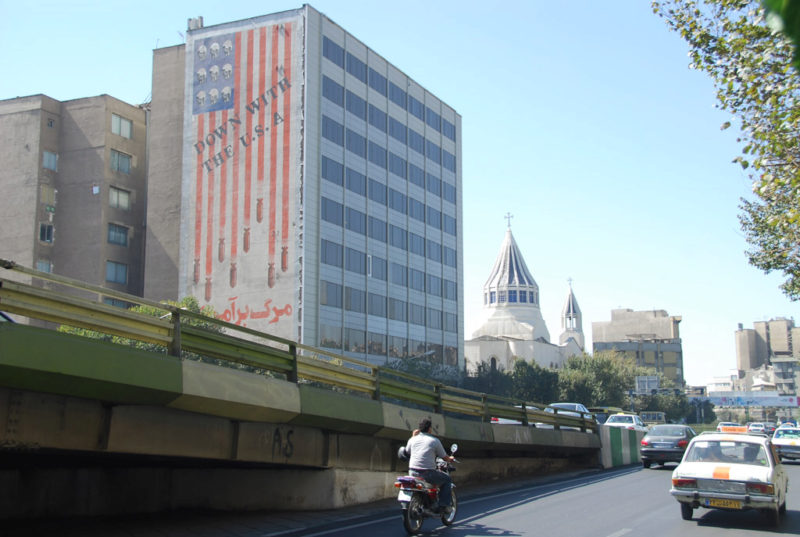 How not to get an Iran visa twice But Why You Should Still Try
Turn up to the Iranian Embassy having just arrived in New Delhi and say you want to get a visa.
Tell them your nationality (bad decision if British)
Remember that you absolutely definitely need a pesky 'Letter of Invitation' obtained either through a pricey tour agency or by a friend who 'invites you' to Iran.
Apply immediately for an LOI and wait for 15 days thinking things will probably be ok.
After 15 days, and numerous conversations with girlfriend who you've only seen 3 weeks in 7 months telling her you will be home soon, get a response from the tour agency saying 'you've been rejected by the Iran Ministry of Foreign Affair for a visa with no reason given'.
Ball your eyes out, curse, swing your arms about like there is a cat attached to the end of each.
Get that familiar feeling of 'starting from square 1'.
Convince yourself that this is just part of the process and treat it like a challenge not a problem.
Contact another tour agency and send them your details.
Contact your friend in Iran to send you a letter of invitation.
Get the producer of your film to call up a reliable tour operator 'Sandy Travels' to get you in contact with your extremely wise Iranian Visa Mentor 'Reza'.
Reza tells you that if you get rejected twice it's very unlikely you will ever get an Iran visa but because it's the Iranian new year your best bet is to try as hard as possible to get the transit visa.
Spend the next week cycling 40km to and from the Iranian Embassy everyday with new instructions from 'Reza' in an attempt to beg the robots in the consulate for a transit visa (which they have the power of issuing if they want - in an emergency).
Prepare and psyche yourself up like Rocky. Borrow a shirt, wash your clothes and be the first one in the Embassy on Monday morning.
Explain your problem 'I want to apply for a transit visa', 'what is your nationality?', 'British',  'I'm afraid we have to send your application to Tehran which will take a month' (ever heard of email???)
Stand in peaceful protest (like Ghandi) in front of the kiosk window for 2 hours.
Watch a very interesting stream of people applying (probably successfully I tell myself) for visas.
Meet the Visa Officer (visually a cross between Gerard Depardiu and Gordon Ramsey) and explain that you: have no money, don't want to fly for environmental reasons, cycled from England to India, love Iran and think it's a great country, are desperate to apply for a transit visa so that you can  transit through Iran by bus and train.
Get told by the Officer that - he can't help you, it's not how it works, but then he let's you apply for the transit visa anyway.
Leave the embassy and realise that the only reason he let you apply for the visa was to get rid of you and that it's extremely clear that you're never going to be accepted for the visa without an LOI.
Unfortunately you can't get an LOI until at least the 15 April (without delays) because of the Iranian New Year (Happy Norooz!)
Tell your Iranian Visa Mentor 'Reza' the situation and get new 'advice' to keep trying and to really make your situation VERY clear….
Buy chocolates and make a 'script': "The visa section Mfa is closed until the 5th April. I'm British and I know I will be turned down if you send my application to Tehran." "If I don't get the transit visa I will miss my best friend's wedding?" "My Indian visa is about to expire and I can't wait for 4 weeks and I've run out of money for more visas." "My travel is a global cycle ride for charity, peace and unity between countries" "I love Iran and I want to tell the world how wonderful it is"
Get some other props: Print out a picture of your fancy 3 wheeled loaded bicycle against a backdrop of snowy mountains.
Get a friend in Tehran to send you a letter of invitation and a copy of his passport. Go to the Embassy the next morning, speak to the officer, offer the chocolates (gratefully received), but in reality don't get much further but leave with a slight feeling of hope that there may be an ounce of human being left in that grey exterior.
Make a new script: "I'm running out of money to pay for accommodation. I can't afford to wait 4 weeks", "My wife is very upset", "I can't afford to fly (aside from the fact that flying is philosophically repulsive to me, not mentioning the nauseating environmental impact)". "I can't get the Khyber pass permit to cross overland to Afghanistan and I can't afford / don't want to wait 2/3 months it would take me to travel via China and Central Asia". "My bike frame snapped and I've got a persistent knee injury". "I can't afford any more visas". "My family is very worried about me". "I know I should have planned things better but I'm out of options and I'm appealing to you as a  human being". "I can give you an exact Itinerary of my travel". Cycle 20km to the Iran Embassy armed with a box of Indian sweets.
Show your face at the window kiosk and get told 'please sit down and wait' Think that you might be on to something but then end up waiting 4.5 hours until you're the last person in the Embassy then step up to the Kiosk to be asked 'why are you still waiting around here, we finalised everything yesterday?'.
Because you feel so strongly about the situation start crying and cry for the next 20 minutes, during which time the officer refuses the Indian sweets and accuses you 'you think because we're Iranian you can give something and get something in return, that's not how it works'.
But still after this experience leave with a glint of hope as one of the officers says, 'you should go now otherwise he won't give it to you. Come back on Tuesday'. Say 'if you won't take the sweets, I'll give them to the security'. 'No, the security won't accept them' - they say in response.
Leave the embassy and share the delicious box of Indian sweets with the Police guarding the embassy…get a vast amount of satisfaction from this.
Leave and enjoy a wonderful weekend cycling around, talking about art, eating Afghani food, attending an electronic music festival, meeting friends and making the most of life.
Visit the Embassy on Tuesday to be told that you've been rejected for no other reason than they don't like giving visas to British.
Leave relieved at least now that's over….
Essentially learn a lot about dealing with bureaucratic institutions and persevering in the face of an impossible challenge and learning a lot from failure.
All the above is true from my experience other than- I'm not married and my best friend's wedding probably isn't going to be until July.
Bottom line is that it was a high quality, intense experience, and everyone should try and get an Iranian Visa.
With hindsight, the universe was probably trying to tell me something.