TRAVELS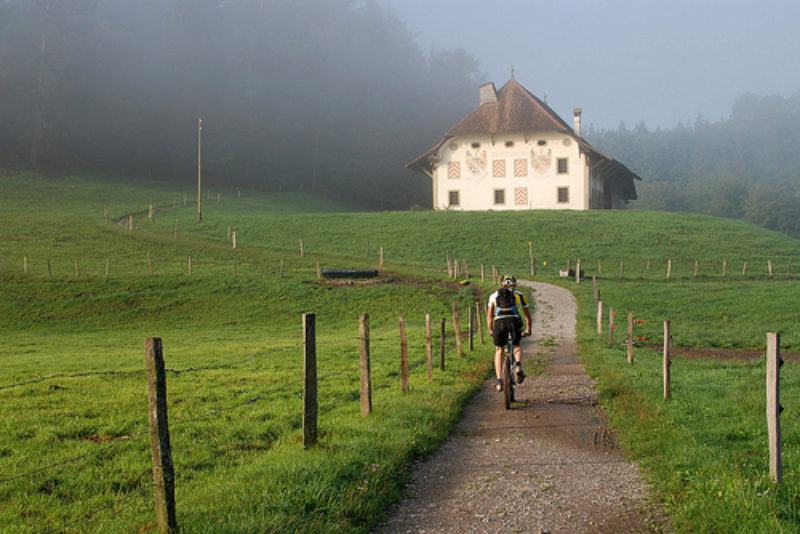 Weekend in Switzerland, Scott, Moulton, and The Ride Journal
I recently spent a fantastic weekend in Switzerland near to the city of Bern with an engineer at Scott bikes who has just recently finished work on the new Scott Genius LT full suspension bike.
I was able to go for couple of lovely morning rides with Joe and got to ride last year's Genius frame- a carbon, full suspension beauty.
We set off early on the Saturday morning pedalling out of the picturesque town of Fribourg, nestled in a steep-sided river valley. The morning mist rose off the river's surface and my lungs were thanking me that I had cycled the 100 miles down to London a couple of days before in preparation in for the Swiss hills.
We entered a forest section, and I weaved the incredibly light and manoeuvrable bike through fast, narrow, tree-dotted sections, gliding over moist roots and gulping in the sweet Swiss mountain air. I quickly remembered how to ride a full suspension bike; sitting down and pedalling through some bumpy sections and allowing the travel to track the surface of the ground and eat up the terrain. The gorgeous bike had a 'tracloc', handlebar mounted travel adjustment, which I quickly found myself using intuitively to synchronise the bike with the terrain. Seeing a technical rocky bit coming up I could flick it into full travel mode or flick it into the locked-out position for blasting a fire-road. The bike opened up a new world of riding possibilities and I soon started to find myself falling in love with it.
I was more than slightly jealous of Joe's location next to the hills and I found myself comparing the trails to the trails near to Tbilisi in Georgia, where I was living last year. A section of the morning's trail followed alongside the winding river. Up and down, the Genius coaxed me to throw the bike into the corners and carried its speed in a way alarmingly well, causing me, on a couple of occasions, to make some emergency adjustments to my steering when I hurtled round a tight bend or over an obstacle and hadn't checked my speed. I don't have a lot of experience riding long-travel downhill bikes, but it is something that I want to do more of. As Joe mentioned, 'you can go faster over rougher terrain, but you crash faster too!'
As I pedalled gleefully along, a branch covered in dew-moistened leaves thwacked me in the face but being caught by surprise just widened my grin. There are those grazes and scrapes you get from mountain biking that, because during the ride the endorphins are flowing and you're so 'in the zone', you only find out about afterwards is incredibly modest and down to earth about his job which is to a lot of bike fans is living the dream. He comes across as a typical mountain biker who loves riding. We went riding again the following day and I got the chance to visit the Scott factory and did a bit of riding on the 'pump' track which is basically a miniature jump track. The idea is that you maintain you speed by 'pumping' the bike up, over, and into the jumps. It is surprisingly hard work and sweat inducing. One of the top cross-country riders was there recently and managed around 27 laps without pedalling.
I took a peek at the offices and the showroom of 2011 bikes. It was cool to get a glimpse into the business behind bikes. Joe's housemate, James is doing a Masters in vehicle design at the Royal College of Art and cycling is James' passion. He is a road rider and hails originally from the fens of Lincolnshire. I was thrilled to be shown through James' portfolio of design which included some bicycle designs and other utterly fascinating stuff. His portfolio is here. James had done some work for Moulton bikes and I have a Moulton bike, so I have been inspired to get some new tyres and innertubes for it and start using it. The Moulton bike looks similar to a folding Brompton with small wheels, but the Moulton was the first ever bike to have suspension front and rear.
The ride is very different to a normal, 26-inch wheeled bike, because the wheels are so small, causing less friction, and there is a feeling of 'bikelessness' because the design is very minimal and there is no 'top-tube' so to speak, just one tube connecting the steerer to the rest of the bike. Overall, the weekend was a great and it has reminded me to build bikes that are designed for purpose amd not compromise where possible, to think big with regards to designs, and believe in the dream of cycling as a way of life. It was wicked to spend some time with some true bike enthusiasts. I was also introduced to a relatively new bike book/journal/magazine called 'The Ride'. It is a beautifully illustrated published quarterly with highly distilled articles from distinguished folk of the biking world.