ADVICES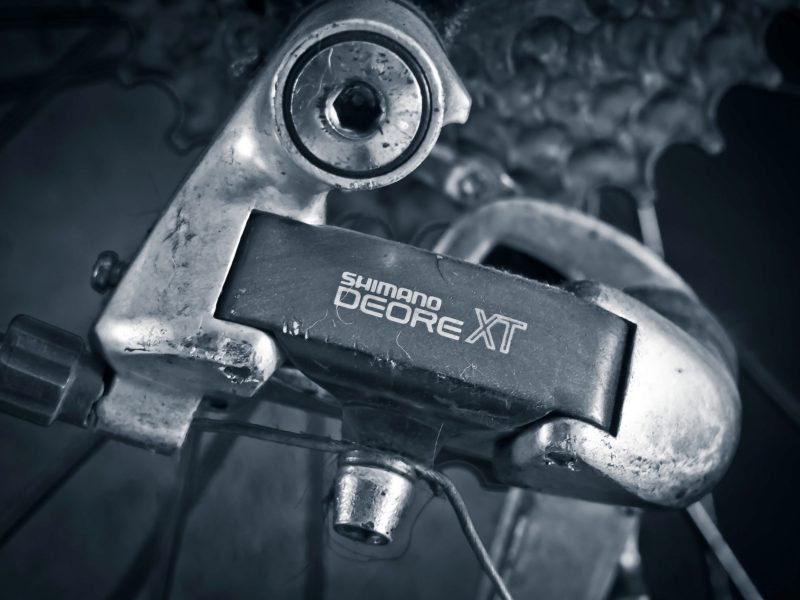 How to Build a Decent Mountain Bike for £410.93
Update Summer 2017
Upgraded the bike with a Brand X Dropper post.
Update October 2016
After riding weekly with local club Wakerley Wheelers, the bike worked great. Upgrades I've made have included: a rear mech with a clutch system and a chain device. The chain had a tendency to fall off so these are the modifications I've made to fix it.
I like to build bikes. However, after finishing one bike, I always have a few parts left over. Then I think, with these parts, I can make a hack bike for fun, which then turns into another bike project.
Most recently the criteria was a bike for riding the not-so-mountainous landscape of Leicestershire and the trails at Wakerley Woods with some jaunts further afield to Cannock Chase, Thetford, the Peak District and Wales.
With my Georiders project abroad in Georgia last year, I bought a Scott Scale hard tail bike there for the rental fleet. It was probably the last in the range to have 26 inch wheels. At the time (2014) I wasn't convinced by the other wheel sizes. The bike was light, good value, geometry and is simple so that it can take a beating but be easy to maintain and fix.
My dream bike is a long-travel trail bike, but I don't have the money or need for a long travel bike whilst dwelling in Leicestershire, hence I decided to build up my 'left over bike parts' into a cheap, but good hard tail mountain bike that would ride akin to the hardtail I bought in Georgia.
Firstly I needed a frame. Aluminium mtb frames are light and widely available. I bought a Merlin Malt in blood red off eBay for £30 (£40 with P&P). At the same time I bought a Specialized Rockhopper Pro frame for £16 aghast at the cheap price (not that I needed two frames at all).
The next component was a pair of Marzocchi MX pro suspension forks from 2003 which I found in a skip in London. Price: free. Update: I swapped these for a pair of Rockshox Reba Race bought for £120 off eBay. RRP £450.
Looking for some handlebars, I found someone selling carbon bars from Taiwan for £15 and I bought a short block-style stem from the ridiculously cheap price of £6. Update: I swapped this stem for a 100mm road bike stem because it was lighter and gave more reach. The old style geometry of the Specialized frame doesn't suit the short stem /wide bars too well. My (original) criteria was wide handlebars and a short stem and the forks had a really short steerer so I needed something with a very low stack height. Update: but this just didn't work out as mentioned above.
I bought a pair of Shimano BR-BL355 front and rear disc brakes for £39.99 from Amazon. I bought a set of Mach1 Neuro 26 inch rims on Shimano deore hubs for £89.99 from eBay. Rear cassette is Shimano HG50 10 speed bought from eBay for £15 include P&P and a chain Shimano HG95 HGX bought from Merlin Cycles for £14.95. Cyclocross 36t chainring for £9.99.
Parts I had lying around:
Marzocchi MX pro suspension forks
Rotors
Maxxis Advantage Tyres
Aheadset
Seatpost
Selle Elite Saddle
Retro Shimano LX cranks
Shimano Deore XT rear mech.
Tubes
Grips
Cables
Cost so far: £220.93
Updated cost: +£120 for the forks.
Further parts required: 10 speed shifter. Update: I purchased a Shimano Zee shifter for about £20 off eBay.
At first I built up the Merlin frame but found it a bit small for me. It might have been a large frame rather than an XL frame. I decided to rub down the Specialized frame as it was showing some pitted areas and bubbling on the paint work. At first I thought I could strip the paint with that nasty green gunge paint stripper (I forget the name) but it turns out they changed the recipe of it and now its not as powerful. I pretty much ended up rubbing the frame down, which was time consuming but cathartic.
I swapped the retro LX cranks for a set of Shimano Zee cranks (£50) and used the Hollowtech 2 bottom bracket that was in the frame when I bought it. The problem with the old cranks was that if the crank came off it got stuck between the chain stay and the crank where the small ring bolts on which was dangerous.
Cost so far £410.93. I've been riding the bike at it currently stands and I'm happy with it. It is light, the drivetrain is great and the forks are really plush. Having built up numerous hack bikes, I keep telling myself that the next time I will buy a bike off the peg, but then a little voice appears and says "Where's the fun in that".
I did swap a couple of things in the picture like the seatpost which is a FSA SL-K seatpost bought off ebay for £30.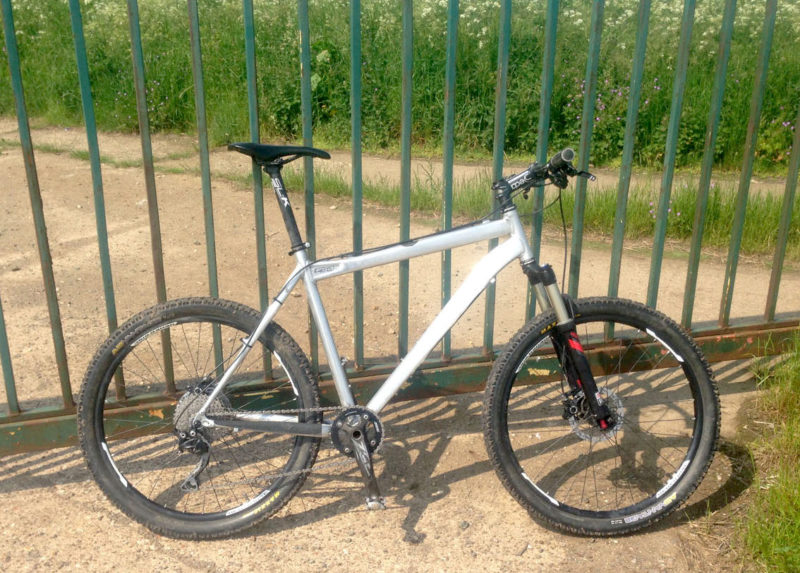 Update:
Things I would change and improve
Ideally:
The handlebars should have passed the necessary safety regulations for UK / Japan.
Its possible to find Chinese imports that have passed the regs.
Carbon frame.
Better rotors, at least Deore. Cost £30.
A sealed cartridge bearing headset. The cheap one I used already has a split in the plastic cap. Cost £30.
Next bike:
Carbon fibre 29er.