REVIEWS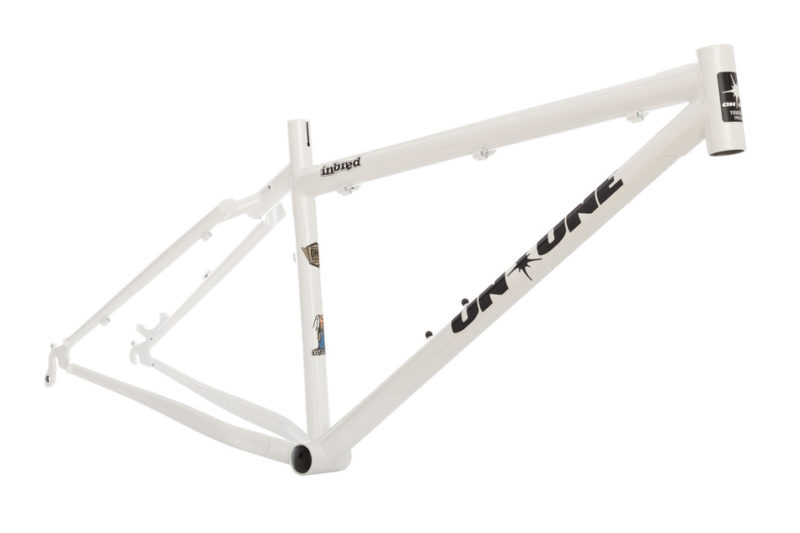 On-One Inbred (26 inch wheel version) Frame Review - My Thoughts on this Classic Steel Frame
Before you read the article, have you seen my books? Please check them out. Thanks!
The On One Inbred Frame - ebay affiliate link is a steel mountain bike frame designed for British trail cross country riding. The frame is low cost but offers good value for the money. You can now get a 29er version of the frame. I first heard about the frame because some friends were racing it in a singlespeed competition circa 2003. It is a long-standing classic cross-country frame with its roots from the single speed world. You can get a sliding drop out version. The manufacturer (Planet X) is based in Sheffield so was local for me when I was living in York. With it being steel and having rack mounts, its a good candidate for an expedition touring bike or a bikepacking build. The article is for the on one inbred 26er review. I have not tested the 29 inch wheel version so I cannot comment on it.
Technical Features
The on one inbred 26 inch wheel version is the original size frame. The on one inbred 26er has been superseded by the 29 inch wheel version.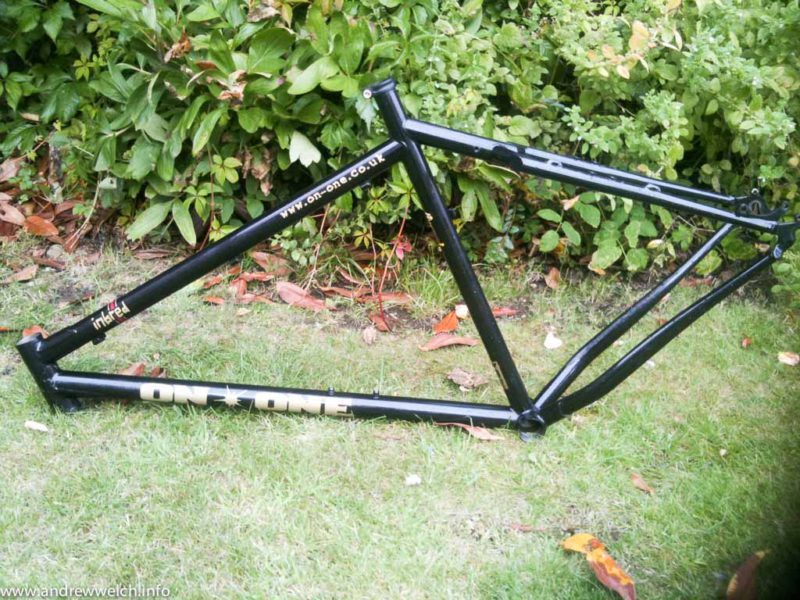 Size: 20in
Frame Material: Custom DN6 cro-mo steel
Head Angle: 70
Seat Angle: 73
Chainstays (in): 16.6
Seat Tube (in): 18
Top Tube (in): 23.7
Wheelbase (in): 42.9
Rack mounts & huge tyre clearance
Company
On One is designed and made by Planet X based in Sheffield. They are the second biggest builder of bikes in the UK. Their main business is selling bikes online and mail order. This is how they started out and is their USP. They keep their prices low by not having high street outlets and a big marketing budget. Their brand has grown through word of mouth.
We are incredibly passionate about bikes and we love riding, all our staff ride - from bottom to top and side-to-side. We've got roadies, triathletes, mountain-bikers, tourers, fixie riders and cross-racers, you don't have to ride to work here but we just seem to attract people who do.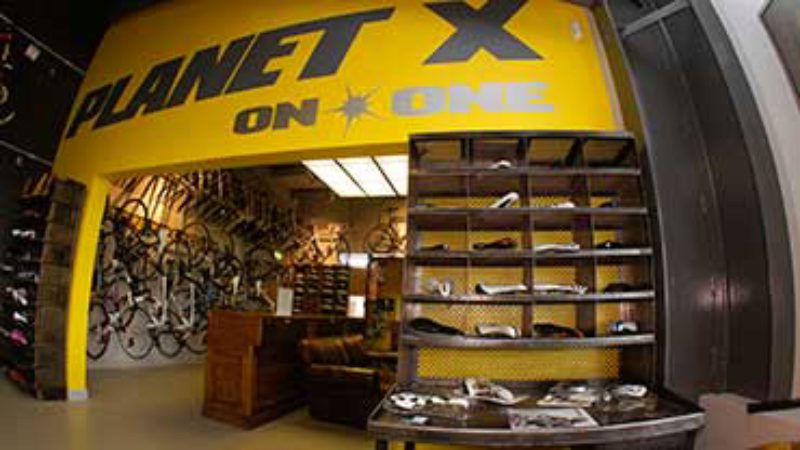 Founded by Dave Loughran who started Planet X by making dirt jump bikes - the legendary "Jack Flash". Hooking up with mountain-bike journalist Brant Richards. The two started a weird underground brand, they called "On-One" to sell steel singlespeed mountainbikes online. They've since created a partnership with a manufacturer in Taiwan to create carbon bikes so they also provide high quality, low cost carbon bikes.
Our aim is to offer top quality custom specced bikes, at unbelievable prices, built to order and delivered in days, along with the best value branded stock from all over the world.
What does Planet X say about the Inbred?
The On-One Inbred is a durable steel hardtail MTB designed for use on any trail, in any conditions. The Inbred 26'er is a fantastic all-rounder, giving you big fun for little outlay. The On-One 26 Inbred is packed with features that make it a great all-rounder a hassle-free grab-and-go bike ready for any trail. The Inbred 26er frame is somewhat of a legend on the trail scene hand-crafted from double-butted DN6 4130 chromoly steel, its a chassis well capable of handling anything you can throw at it. Steel is real cry enthusiasts, and you know what, they are onto something! The Inbreds frame is incredibly strong yet it really soaks up the rough stuff thanks to its steelie qualities. Nothing rides like steel. Fact. Many try to emulate it, but they are all just imitations. Now you can ride the real deal! Just as suited to long rides on the on the Moors as it is ripping singletrack on the local trails, the Inbred is tried, tested and honed during many hours of R&D. The Inbred was born to roam free, to carry its master faithfully over any terrain for years to come.
Other Reviews:
I believe these Brits have full confidence in not having component or frame failures. The Inbred is "kid proof", "bullet proof"…it's overbuilt.. The story goes that Brant, a designer for Planet X, wanted to do more hardcore stuff. On-One was launched to do "crazy, really niche projects."…The 11" (279.4mm) bottom bracket height, which is approximately 0.75"-1" lower than most mountain bike frames, provided a lower center of gravity….There was no guesswork when cutting through turns with the big rigid fork—point it and as long as the tire gripped, it was on line. I carried plenty of momentum and speed to bash over rock obstacles, and grind up the rest of the hill.
The low overall weight and long singlespeed-friendly top tube stretch make it an obvious foul weather cross-country/race choice too.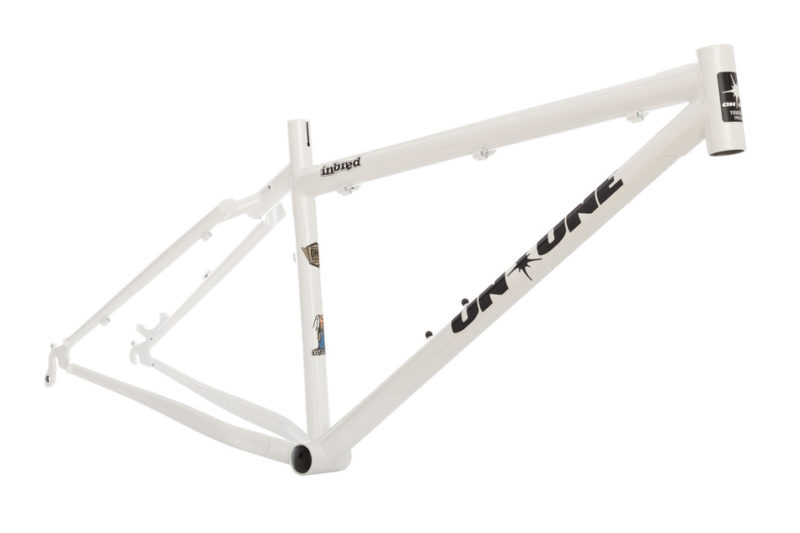 How I tested the product:
First I bought a weird fixed wheel singlespeed version off eBay. It had Level CNC hubs, DT Swiss ceramic rims (still got these), Magura hydraulic rim brakes, Race Face cranks (ended up on Tom's bike), Chris King Headset (ended up on Tom's bike). I dismantled it because the frame was too small for me at 18 inch (medium). In 2012 I bought the vertical dropout version with the Barry White paint job. I used it for mountain biking, touring along the South Coast, riding the Dunwich Dynamo, and cycling to Anglesey and over to Ireland from the Midlands.
My take:
The frame feels solid. The paint job is nice. I had a white one and the Barry White special edition paint job which has a iridescent tint. The frame looks unique with its welded sections on the top of the rear triangle which give the frame a wide gait to allow for large diameter tyres. It looks simple but rugged. The name and the decals are very English and quite confusing to any other nationality to doesn't understand the meaning of being 'On One' or the slightly non PC Inbred name and mascot character. Its typical UK mountain bike culture - mad, charming and awesome, in the Ilk of the Mint Sauce cartoon series "The Eternal Reek of Damp Wool".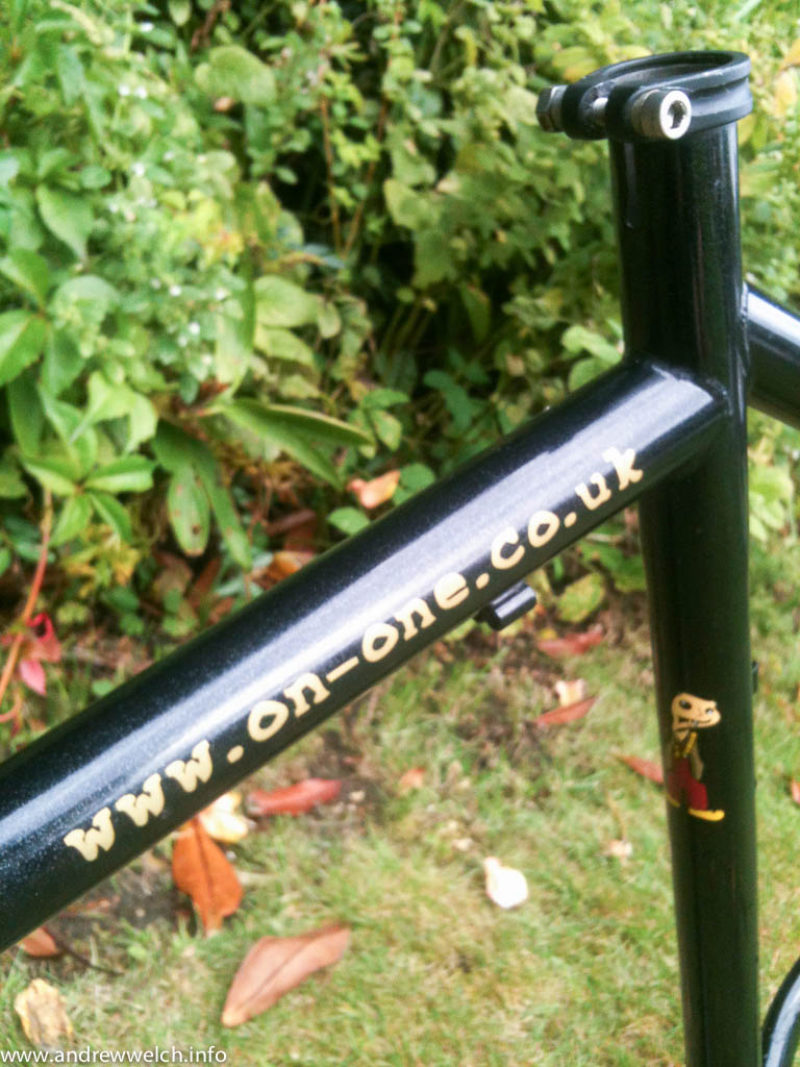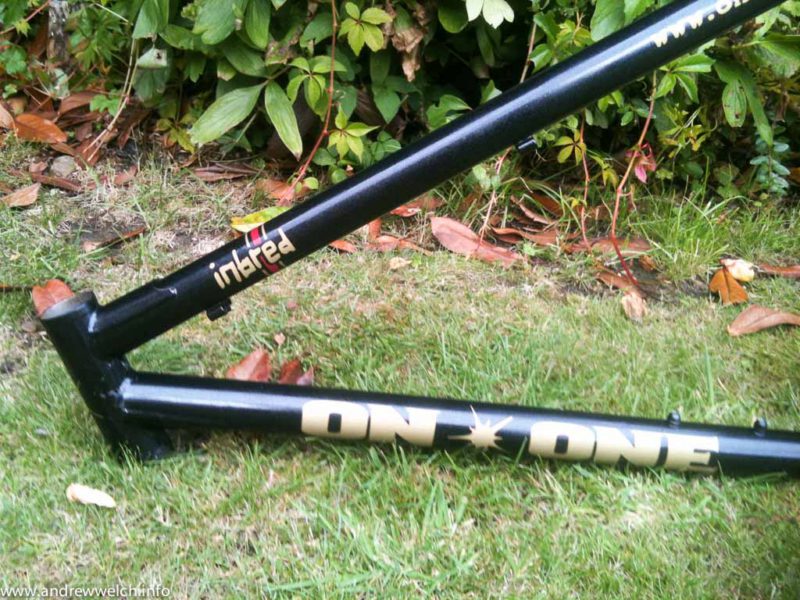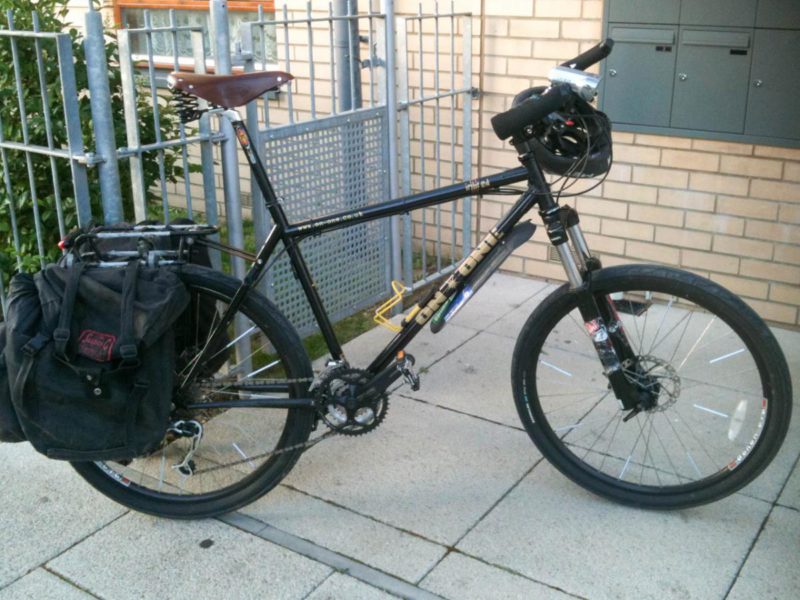 Pros:
The steel material offers a solid confident, stiff but forgiving ride and the frame is strong with nice welding.
The rear triangle construction means you get huge tyre clearance.
Planet X's way of doing business means they can offer a good value product at a cheap price.
Wide variety of cheap parts available from the same company for conveniently putting together your custom build.
Quite common so you can pick up on eBay fairly frequently.
Low BB for lower central of gravity for more planted and stable ride.
Cons:
The frame is a little on the heavy side.
It comes up a little bit small for me at 6'2" - the biggest available size was 20" - seat post was at the 'minimum insert'. They are said to have a long top tube though.
Latest product offering says it has one one bottle mount - more would be better for touring.
To conclude:
For mountain biking this frame offers a great ride for the money and a unique British feel. Suits fine for touring too.
**Note re: adventure cycling / bikepacking:
The on one inbred 26 inch wheel version tends to be the one that is used for adventure cycle touring because it is good value, strong, has rack eyelets, v-brake bosses and obviously it's steel construction means that it can be mended easily. In addition the on one rigid fork offering for 26 inch wheel is a popular choice for adventure cycle touring because it is strong, as the brake bosses, looks awesome and is again very good value for money.
Links