ADVICES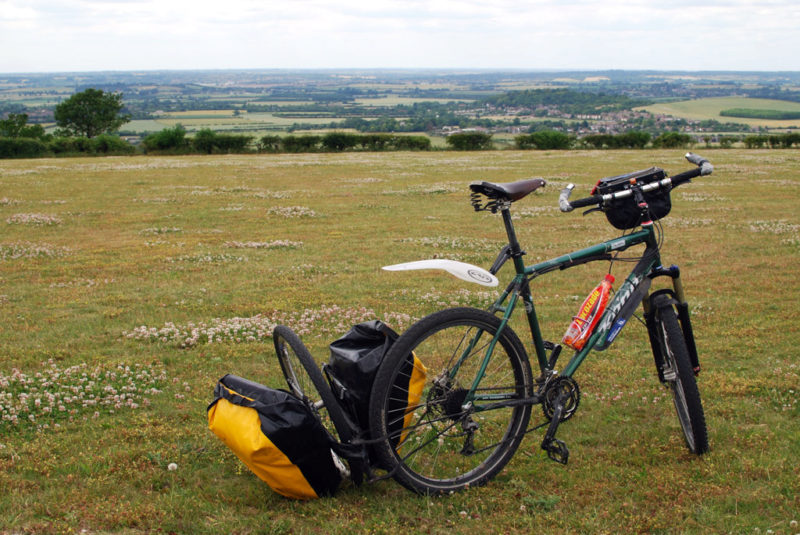 How to build the perfect expedition bike part 1
So you want to go on an expedition by bike. You might be asking yourself "What kit do I need?" You'll find plenty of information out there. Cycle touring is something you can do without expensive or complicated kit but it can help to invest in equipment that has been well road tested.
For most of the cycle touring I have done, I've ridden a mountain bike frame because I wanted something which would take plenty of abuse. I planned to be away for multiple years which meant the bike needed to be able to carry heavy luggage.
I knew a fair bit about mountain bikes from being in the mountain bike club at York Uni and working as a bike guide in Croatia. This helped me to test various bike set ups, know which kit was the most durable and which were the most reliable brands.
Mountain bikes have different geometry to road bikes. They are designed for manoeuvrability, stability and vibration absorption. A road bike pings along tarmac effortlessly whereas a mountain bike will carry speed over uneven terrain.
My efforts in building my touring bike were influenced by my previous experience with mountain bikes. However, in three years things have moved on. These days you can find touring bikes for different kinds of touring. If it's not a road tour, perhaps consider a something Surly or Thorn.
Frame
The frame should have comfortable geometry and be strong. A bonus with steel frames is they can be welded. Old school road frames tended to have more laid back geometry which encouraged a certain riding style with high gears which could put more pressure on the knee over time.
A more upright seat tube and further forward seated position would mean you would be more inclined to spin the cranks using lower gears. This is the kind of pedalling style that you would usually use for climbing a steep off-road technical route on a mountain bike.
Frame features useful for touring are: rack mount eyelets for fitting a pannier rack and bottle cage mounts for water bottles. The rack mount eyelets are not essential because you can use an adapter which clamps round the frame, which I have for my Tubus logo rear rack. However, you still need to have a place at the dropout to bolt the rack on to.
In 2022 there are many frame options for all kinds of touring whereas when I went on Ride Earth in 2007 I would have recommended any steel mountain bike frame.
It could be worth looking at folding bikes like a Brompton or Dahon if you are planning on be hopping on and off public transport. If you won't be needing to that often then you can pack up the bike into a bike box.
Headset
The headset is the component that allows for the forks to turn smoothly and fits into the steerer tube at the front of the bike. The Chris King Nothreadset is a long term tried and tested piece of kit from my travels. At over £100 its not cheap but then it's probably worth the investment because it comes with a 10 year guarantee. In 2007 I did consider cheaper alternatives and went for downhill spec, like the FSA Pig, for durability. In 2022 most headsets wouldn't give you a problem.
Front Suspension
When you stop somewhere your forks are what people fiddle with on your bike. For touring, a pair of mid range forks, with 80 - 100mm travel, around the £250 mark will serve pretty well. I used Magura Odur forks which worked very well but they have now been discontinued by the company.
Alternative forks at the time were models like Marzocchi Marathon, Bomber or air spring forks from Fox. I advised avoiding forks for dirt jumping because they will be heavier and designed for absorbing large impacts rather than giving a comfortable ride over the smaller stuff.
The main thing is to choose the right bike for your trip. For example for the Great Divide MTB route you might want a a full suspension XC bike but for a road tour you just want something strong and lightweight.
There is also the mindset that you actually WANT to use a scrapheap bike or something that isn't fit for purpose in order to increase the adventure spirit! I guy I met rode a dutch bike from the Netherlands to Georgia.
Originally written around 2012. Updated 2022. First in 4 part series.