REVIEWS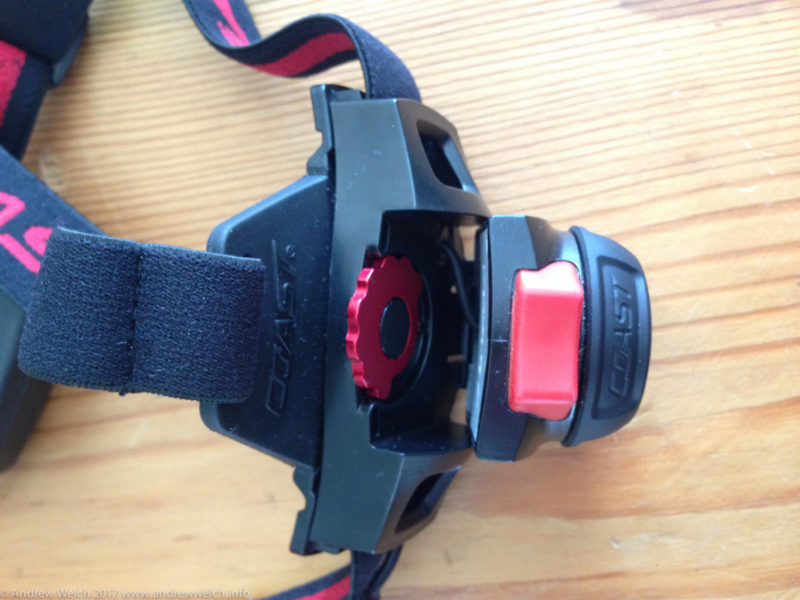 Coast HL27 Headlamp Review for Night Running, Hiking, Mountain Biking with Adjustable Zoom / Dim
You might be more likely to find this headlamp in a hardware store than an outdoor shop. However, this lamp ticks many of the boxes in the search for my ideal headlamp. Are you looking for a headlamp for night running, hiking or mountain biking that is good value, rugged and has an adjustable brightness and zoom? The Coast HL27 might be for you.
The Company
Coast started off producing knives for filleting salmon in Portland Oregon. They branched out producing knives for other vocations. In the eighties they moved into producing multitools and is one of the largest producers of multitools. More recently their product line has moved into flashlights and headlamps. They clearly have a long craft heritage and you can read more about their history on their site
The company's take
Jumping up to AA batteries, the HL27 Headlamp not only goes up in brightness but also has the light dimming on the front of the headlamp so as to keep all the controls in one convenient place. It gives you the ability to shine a ultra wide flood beam and then quickly twist the bezel to a long reaching spot beam with transition halo so that you can be ready for anything. With our Variable Light Control Technology onboard you have the ability to adjust the light output with the control wheel to any point between the lowest low and the highest high so you can have highly personalized output and runtimes.
With Coast's commitment to quality, the HL27 Headlamp is impact resistant, weather resistant and its LED is virtually unbreakable. The HL27 Headlamp is backed by Coast's 5 year warranty against defects in materials and workmanship. Tested and rated to ANSI/FL1 standards.
The fit of this headlamp is actually quite nice. It's three strap harness approach fits securely to the head with no movement, all the while not feeling too tight or restrictive….The HL27 does have a spot mode, controlled by turning the bezel right in front of the power button. In fact, it is great, because it also takes a dimmer approach that allows you to go from flood mode to beam mode and anywhere in between depending on your need….My absolutely favorite part of this lamp is the way in which you can adjust light output on the fly…8+ hour battery life on full light output is hard to beat…No battery life indicator to tell you when you are close to going dark…Large battery pack adds bulk and a little bit of weight to the lamp (about a half an ounce heavier than the Petzl NAO).
Technical specifications
BEAM OPTICS : PURE BEAM FOCUSING
LIGHT OUTPUT (HIGH) : 330 LUMENS
LIGHT OUTPUT (LOW) : 1 LUMEN
BEAM DISTANCE (HIGH) : 423 FT - 129 M
BEAM DISTANCE (LOW) : 22 FT - 7 M
RUNTIME (HIGH) : 8H 30MIN
RUNTIME (LOW) : 93H
WEIGHT : 6.9 OZ - 195 G
BATTERY DESCRIPTION : 3 X AA
ANSI RATING : Tested and rated to ANSI/FL1 standards
My description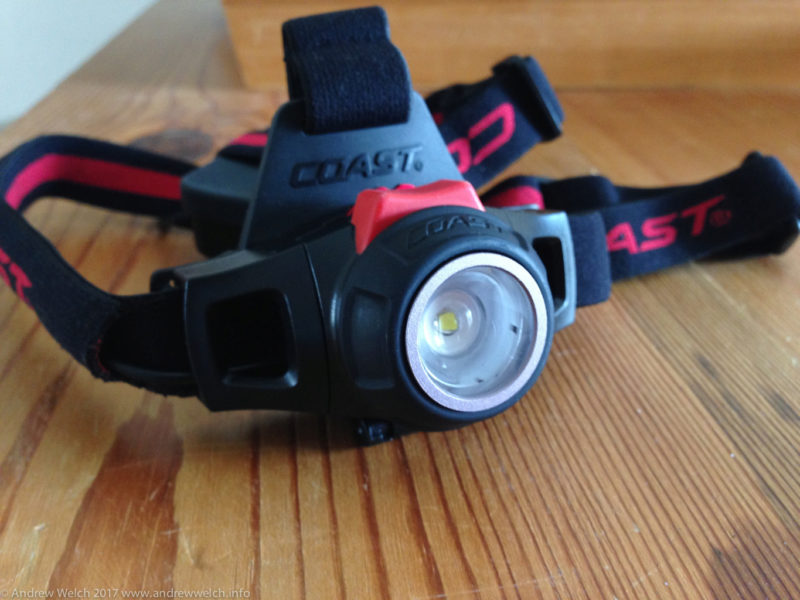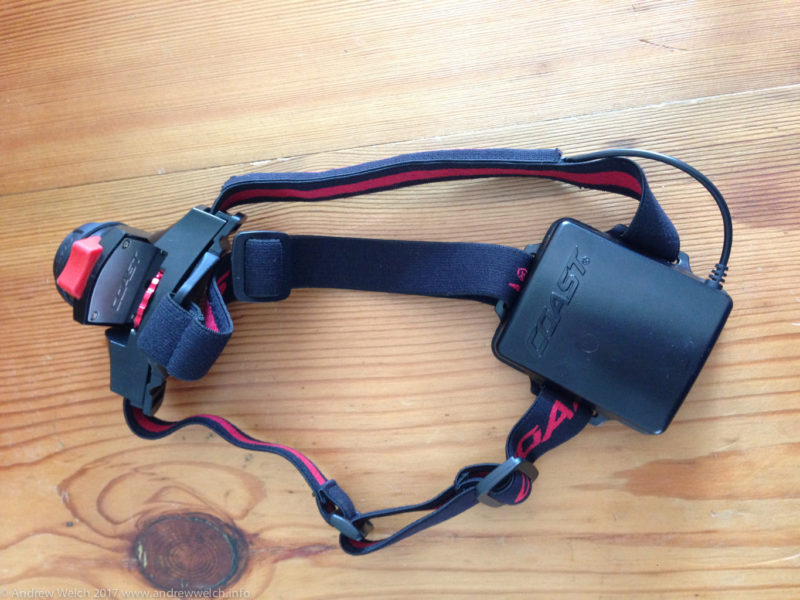 It feels well made. It looks good with the red and black. The strap over the top of the head adds security. The battery pack at the back taking 3 AA batteries is robust. There is a dial for adjustment of the brightness and a rubberised zoom which also turns the light from flood to spotlight. There is a click hinge to adjust the light to point down more.
Feature - benefits
The beam focussing allows alteration of the spread of the light
The light is bright enough at 330 Lumens (8 hours) for most active applications - running, biking, hiking in the dark
On the low brightness the battery life is considerably extended to 93 hours
The beam adjusted to long distance allows you to survey the area
On low beam distance a wide spread close up is lit up so you can see a decent space around you
The 195g weight is comfortable enough to wear on your head for long periods
The AA batteries are long life and widely available.
How I discovered and used this product
I found the product on an Outdoor gear lab test where it rated highly (a slightly different model). I have used it for night mountain biking and hiking and I've cycled through a long dark tunnel with it on - (on the Brampton Valley Way near Market Harborough).
My Impressions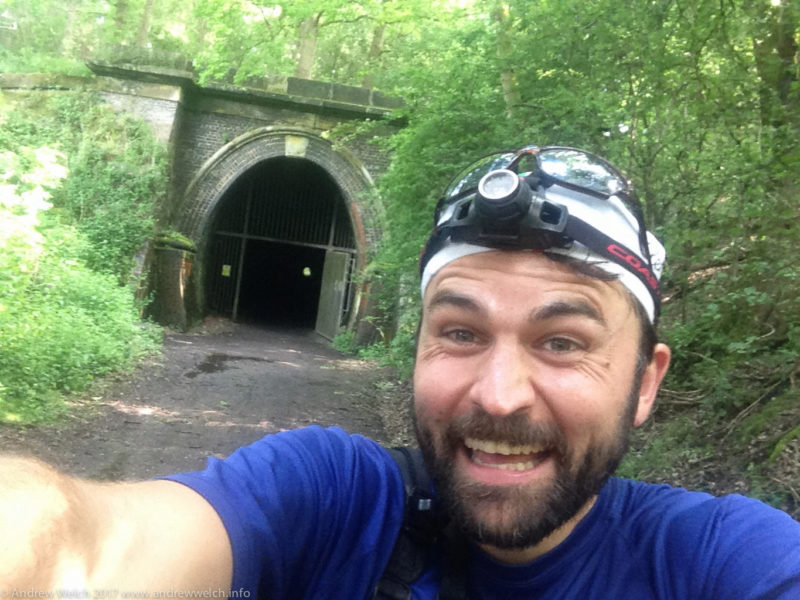 Pros
The light is bright
The adjustable dimmer is a great feature and very useful
The beam is a clear, cold, white
The on / off switch is well designed so you don't accidentally turn it on.
The battery pack is well sealed against moisture
The straps are made from a comfortable, strong material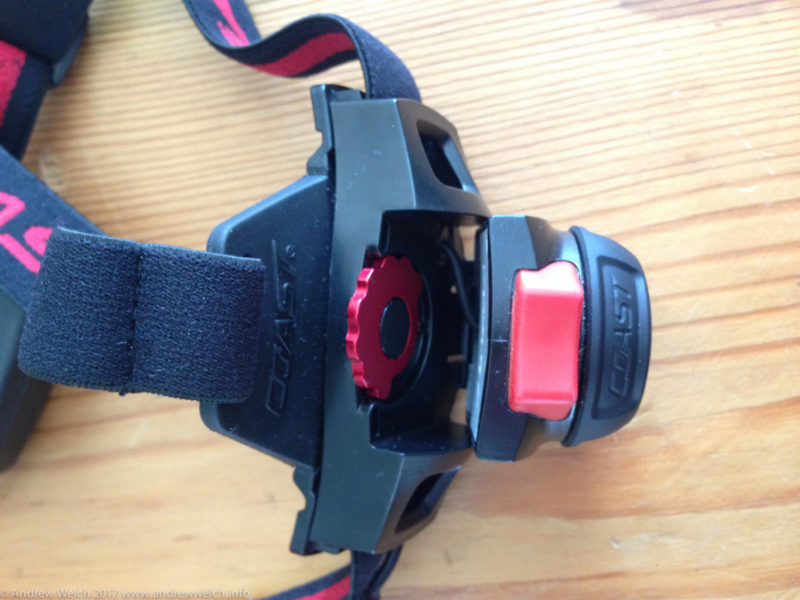 Cons
The battery pack is a little bit heavy
The light is great but because of the dial it invites excessive tweaking
The hinge on the up / down adjustment doesn't feel that well made but its not broken yet! UPDATE: I dropped it and it broke (2022).
It isn't fully waterproof
UPDATE: The batteries run out too fast
I like this lamp because of the top head strap for extra security. The brightness and zoom adjustment is about all I really could ask for in terms of adjusting the light to the conditions I am in- e.g. close up cooking my dinner on a campfire, medium distance half spot / half flood mountain biking or hiking spot / medium distance.
Conclusion
If I was to work with the designers of this lamp there are a few things I would tweak / want to ask why they made the design choice. However, for now it is my ideal headlight for what I need.
Update 2018: I don't really use this headtorch because although it is very good, I'd now rather have a usb chargeable one which doesn't use AAs. The company now makes USB chargeable alternatives such as Coast XPH30R.