REVIEWS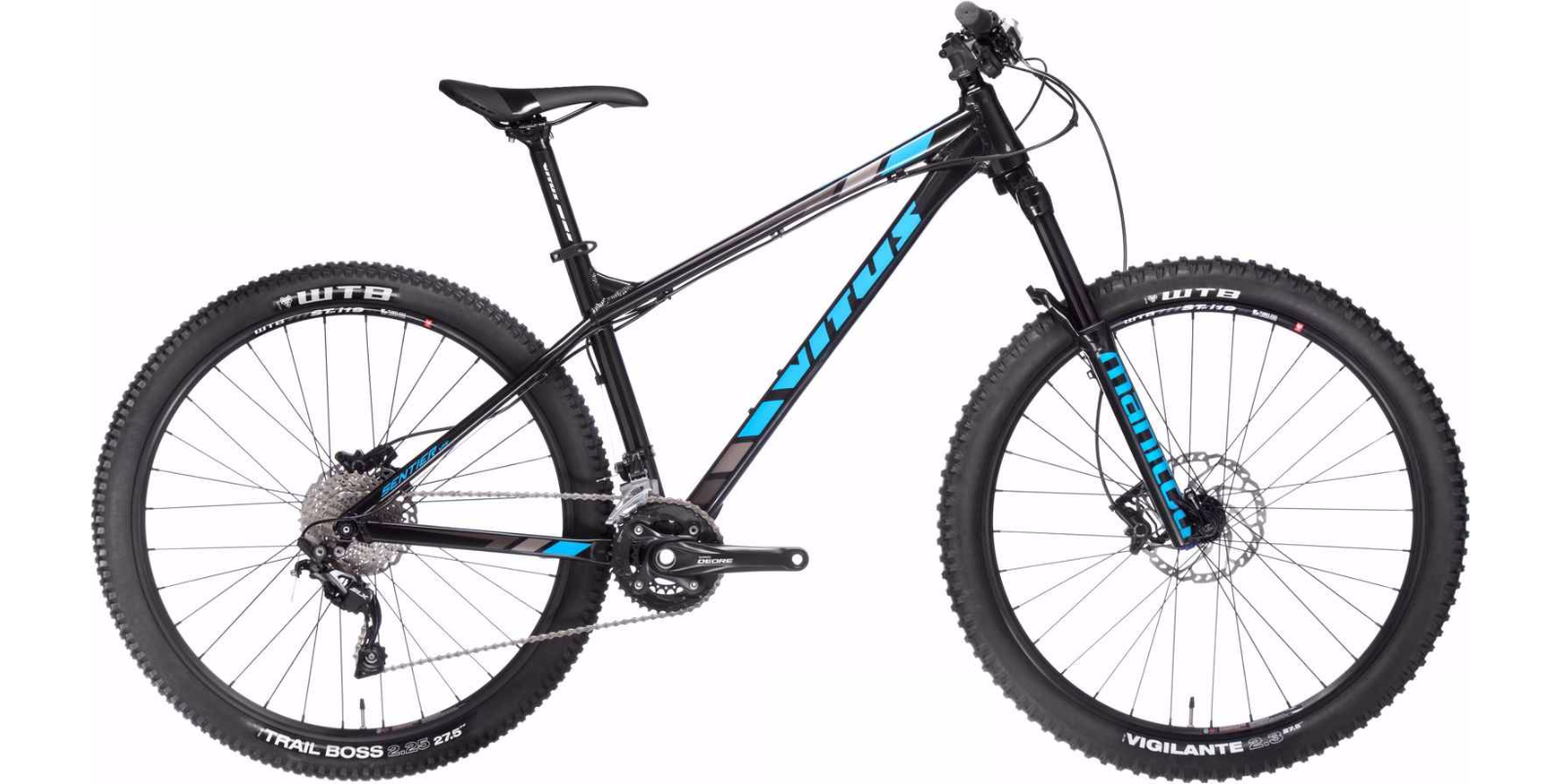 The Best Trail Hardtails
I was looking for a new mountain bike. I went to the cycle show last year, searched online and checked out local bike shops regularly. At first I was looking at any bike but I started to read more about how geometry has evolved. The first time I came across this idea was in 2014 with this article in MBR:
Size matters, why we are riding bikes that are too small
Modern geometry tends to have a long 'reach' (bb to headtube) and is accompanied by a short stem. Some companies (from the list) have gone further done this route such as Nicoloi, Mondraker, Pipedream and Bird. Smaller independent, companies tend to be able to experiment more with the designs.
Vitus sentier
One of the first bikes I came across was the Vitus Sentier. This bike won MBR bike of the year. I looked into it and it ticks all of the boxes (reach is 471mm for xl) - the right geometry, spec and price. However, the issue is that CRC had sold out of them. Also as much as I liked everything I was seeing with this bike it didn't seduce me as much as some of the others.
Sonder transmitter
Long, low and slack, planted plus hardtail mountain bike that holds the line on the roughest of trails. UK trail shredder. A wake up call for the mountain bike world. A hooligan of a bike for trail centres, singletrack and the UKs big mountain. Transmitter is aggressive and fast but fun and forgiving. 6061 aluminium frame with 650b+ boost wheelsets
This bike comes from Alpkit, who you may know as a popular seller of quality outdoor gear at a reasonable price. The Transmitter also ticked all the boxes but what put me off was the fact they sold out and also the reach on the extra large looked a bit short.
Nukeproof Scout
The Scout takes you back to minimal fuss, raw mountain biking. Whether its embracing your spirit of adventure or attacking the trail, the Scout 275 Comp is designed as a do it all hardtail. Its low bottom bracket, slack head angle and stiff frame allow you to explore endless singletrack, rail berms or session the pump track. Whichever wheel size you choose, Nukeproof guarantee you will enjoy every second of your ride, so get out and explore nature's playground.
The Nukeproof Scout has a shorter reach than the Sonder so not for me and the XL is a 19" so too small. However, the frame looks amazing.
Dartmoor primal
The new Primal 27.5 is a construction dedicated for a more aggressive ride with a slacker head tube angle and with Boost standard dropouts. If equipped with downhill tires the frame will provide a comfortable ride in a variety of different terrains, including steep downhill sections and long climbs. When using plus size tires the frame allows you to cope easily with singletracks, twisted flow tracks as well as enjoy pumptracks and small dirts.
The Dartmoor primal is too short for me and they don't do an XL.
Whyte 805
The 800 Series frame uses the very latest Whyte geometry, based around a longer top tube, a short stem and wide 780mm bar. The BBX internal cable routing keeps cables clean and clear of grime whatever the conditions, while Whyte's surefooted geometry will make you want to ride come rain or shine. It also allows the rider to easily upgrade to the Whyte Drop.it dropper post. WTB STP i25 TCS System rims with Maxxis TR front and rear specific tyres combine to make a Tubeless Ready package, with enough grip to fully exploit the 800 series trail geometry. Whyte 805 is too short (477mm reach) but a good alrounder and I believe it has won the MBR bike of the year in previous years.
Mondraker vantage
Let's start with the all important numbers. Most trail bikes seem to be sitting around a 620mm effective top tube length for a large-sized frame – Mondraker has stretched this out to a whopping 660mm. This length, when combined with the 67-degree head angle, gives a suitably long 1196mm wheelbase.The effect is that your weight is planted nicely between both wheels, enabling you to weight the front one, giving plenty of traction without tipping yourself over the bars (from Bikeradar). Mondraker started off the long geometry thing but they are on the higher end of the price scale.
Pipedream moxie
It takes moxie and a no-compromise approach to frame design to develop a frame like this: custom-made tubing was the only way we could create the enduro hardtail we envisaged. Special butt profiles avoid the use of gussets and the results are clean lines and super-strong joints.
The Pipedream Moxie is the longest of all of them and looks outrageous. The frame is full of specialist engineering tweaks to get the most out of the geometry and material. It is worth having a look at on the site
Commencal Meta
A Chromoly frame is much more comfortable than an aluminium frame and with the unique suspension set-up, the ROCKSHOX Lyric RC in 160mm allows for big impacts. The build is complemented by a 1x11 SRAM NX transmission and SRAM LEVEL brakes with 200mm front and 180mm rear discs. As for rolling ability, which is also particularly important on a hard tail, we've chosen Formula hubs (with sealed bearings) and e*thirteen TRS (tubeless ready) rims with 2mm spokes.
The Commencal stacks up well, but make sure you get the newer models for the longer geometry.
Bird Zero
The Bird Zero was my favourite out of the lot, and I went down to Bird in Swinley and demoed one as well as the Aeris 120. They were both spot on.
Nicolai Argon
We must openly admit that the ARGON-AM is an English invention. It was the British who first asked us to build a real all-mountain hardtail. Low-maintenance, light and super robust, but also good-natured and powerful to drive even long-stroke suspension forks. This is why the Argon AM is also a trendsetter and has become a pioneer for our progressive GEOLUTION geometry.
Nicolai bikes are out and out engineering delights, but the price is prohibitive for most.