LANDING-PAGES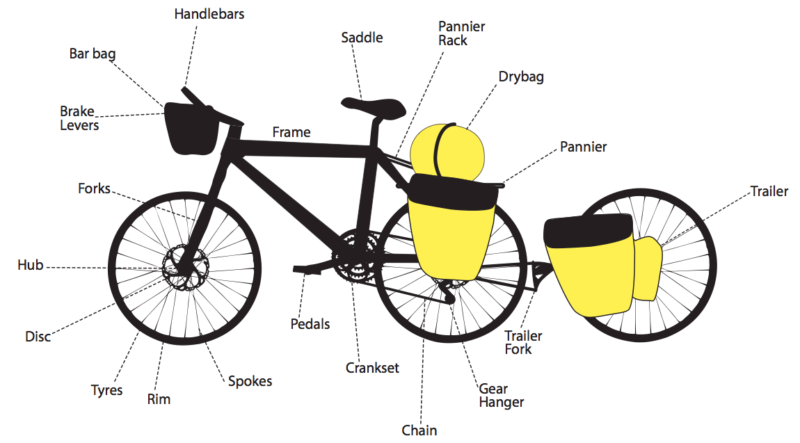 Adventure Cycle Touring
Before cycle touring, I'd done a lot of mountain biking day trips but the first time I did a multi-day "adventure" trip was in Scotland in 2006. The trip turned out to be a big challenge, but it sowed the seeds of later ideas about "travelling by bike".
Bicycle touring - a definition
A bicycle tour is when you decide you are going out on your bike but instead of looping back you stop somewhere and then the next day you cycle a bit more.
Bicycle touring means self-contained cycling trips for pleasure, adventure and autonomy rather than sport, commuting or exercise. Touring can range from single to multi-day trips, even years. (Wikipedia)
Equipment
You don't need much to go on a bike tour. You just need a bike, kit for sleeping, eating and repairing the bike. You can be as minimalist or prepared as you want but either way you're going to have to carry it all!
For a sporty cyclist you could ride fast. Your bike will reflect this by being light and minimal. On the other hand you could plan to go slowly and then the weight of your bike matters less. Going slower means you will probably see more and meet more people.
Bike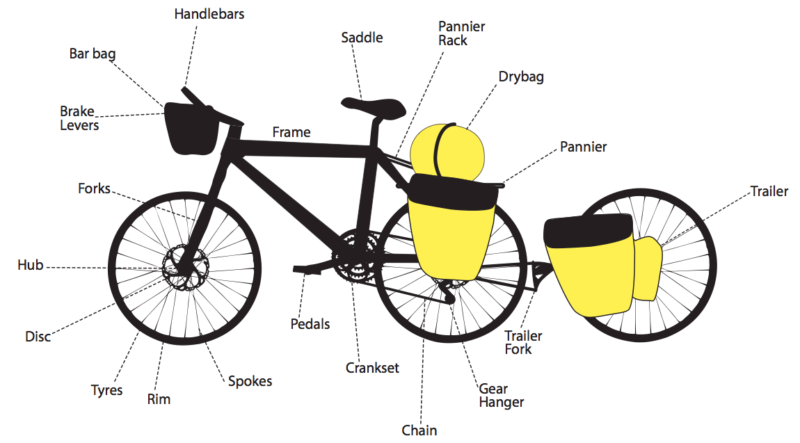 Click the links below to view related site content:
Handlebars, Lights, Grips, Frame, Forks, Suspension, Wheels, Brakes, Disc, Spokes, Tyres, Rim, Pedals, Saddle, Panniers, Bags, Gears, Chain, Trailer, Bike,
Top traits to look for in an adventure touring bike
Steel-framed
Rack mounts
36 spoke wheels
Clothing
Click the links below to view related site content:
Helmet, Hat, Sunglasses, T-shirt, Waterproof, Shorts, Socks, Shoes, Gloves, Breathable, Coat.
Camping
Click the links below to view related site content:
Mat, Stove, Tent, Cooking, Shelter, Hammock, Headlight.
Top tips
Stay hydrated
Ask for help, directions and water
Avoid urban areas at the end of the day to find a secluded camp spot
Top posts
Preparation
Long Distance Cycle Touring Kit List
On the Road
Comms
Return, reflect
You might be interested in these books
Travelogue books
Guidebooks